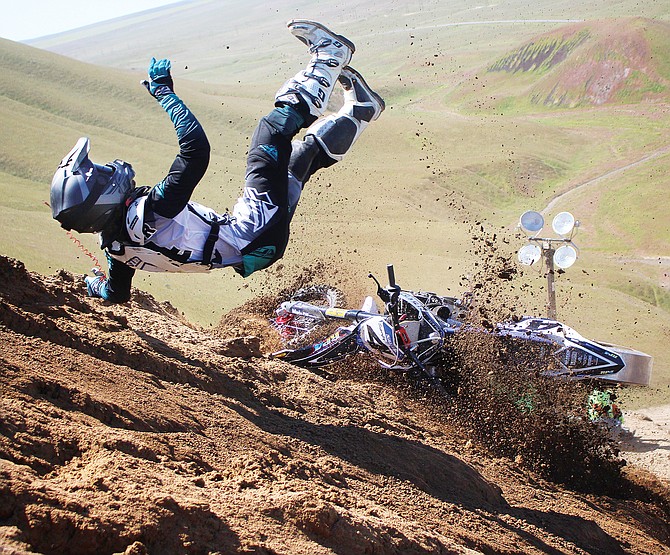 Photo Gallery
Thrills and spills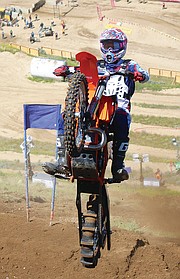 Fans enjoy "adrenaline-pumping" fun at the Northwest Nitro Nationals Pro Hillclimb
SUNNYSIDE — The weekend of adrenaline-fueled racing action is over at Dry Creek Recreation Area.
There were plenty of spills and thrills at the seventh annual Northwest Nitro Nationals Pro Hillclimb the past three days north of the city.
Taking with him a harrowing memory is Austin "Superfly" Teyler of Billings, Mont.
He crashed his motorcycle yesterday within yards of the finish.
Spectators and fellow competitors awaited news of his condition from more than 2,000 feet away.
"At the last road, I bobbled a bit," Teyler said, noting he was sore following the crash. "I was going into the last ledge, cross-threaded and went sideways in the air. I remember packing into it (the hill)."
It looked as if he was going to have a Top 3 finish in the 450cc X-Climb event, but the crash kept him from posting a time on the run.
Teyler said it was one of his better runs on the hill over the weekend.
His transitions were smooth until the last road.
"I'm not in the hospital, so that's good," he said.
Spectators were given a lot to cheer about with changes to the hill.
"The hill is awesome," Mike Holland said. "They're putting on a fantastic event."
His wife Sandi Holland agreed, adding she was impressed with the racers riding gasoline, methane and nitrous-oxide motorcycles.
"The athleticism is amazing," she said.
The athletes, too, were happy with the changes.
"I think the hill is way better than last year," Levi Bobsin of Monroe said. "It was like a highway last year. This year, it's more technical."
The obstacles added to the hill make it more challenging, he said.
Robert Cline of Graham said the challenges make it more difficult to reach the top.
"It's not a freeway and I love it," he said.
Many of the riders had trouble with their bikes, as well as the hill.
Jake Anstett, 2016 Rookie of the Year, found himself without a working motorcycle Sunday.
He was in the top running for several events and began talking with Team Peterson.
"They are letting me ride one of their bikes," the rider from Port Angeles said.
It wasn't just any motorcycle. It was the motorcycle that belongs to Bret Peterson, who last year was airlifted from the hill.
The motorcycle helped Peterson claim three North American Hillclimb Association titles, and proved beneficial to Anstett, who was among the Top 2 competitors in Sunday's final races.
Official results were not available by press time.