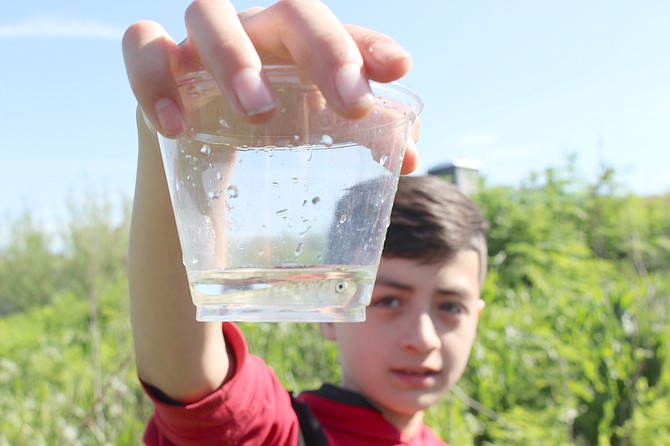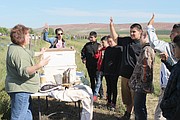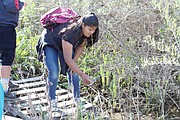 SUNNYSIDE — Cautioned to walk single file down the bank to release baby salmon into the Yakima River, Granger middle school students were cautioned to stay on the path.
And, more importantly, to carefully and gently release the fingerling salmon into the river.
"Don't drop them from too high up," Mid-Columbia Fisheries representative Becca Wassail told the middle school students. "We don't want to give the fish a roller coaster ride into the river."
The Chinook salmon that students were releasing into the river were part of a class project they have been studying since January in their classrooms, Heavenly Hills Harvest Farm owner Merritt Wajeeh said.
Over 120 Granger seventh graders have been researching salmon and salmon habitat as a part of their science curricula this year
"They have been learning about the salmon life cycle and the importance of salmon to our local ecosystem," Wajeeh said.
She hosted the students as a part of the Yakima River Basin Environmental Education Program field trip.
In addition to releasing the salmon, students learned about the life cycle of the salmon in a game in which they pretended to be fish attempting to avoid natural predators while negotiating "miles" of waterways, including fish ladders at Columbia River dams.
"Not many fish make it to the sea," a Mid-Columbia Fisheries team member told the students.
Tuesday's field trip to the farm, which includes more than a mile of Yakima River frontage, gave the students a hands-on connection to their classroom work.
They also learned about water chemistry, natural habitat along the river as well as the natural pollinators in the area.
"For the past 10 years we have been working to create a showcase of how sustainable and environmentally-friendly practices can be implemented successfully on a working farm and it is fun to be able to share our successes with local school children," Wajeeh said.
Wajeeh, who is a Lower Yakima Basin Project Manager with the Mid-Columbia Fisheries Enhancement Group, said this week she expects to also host tours from Naches and Sunnyside middle schools.
For many this was be the first time they visited the Yakima River or a stream-forest ecosystem, she said.
The visit to the Heavenly Hills Harvest farm, a state-certified organic farm, gave the students an opportunity to see the important work being done to preserve ecosystems, as well as efforts to protect native bee populations by local beekeepers, Wajeeh said.
In a few weeks, 60 bee boxes will be distributed at the farm by Brisky Bees, beekeeper Debbie Brisky said. "It's important for the students to see how this all works together," she said.