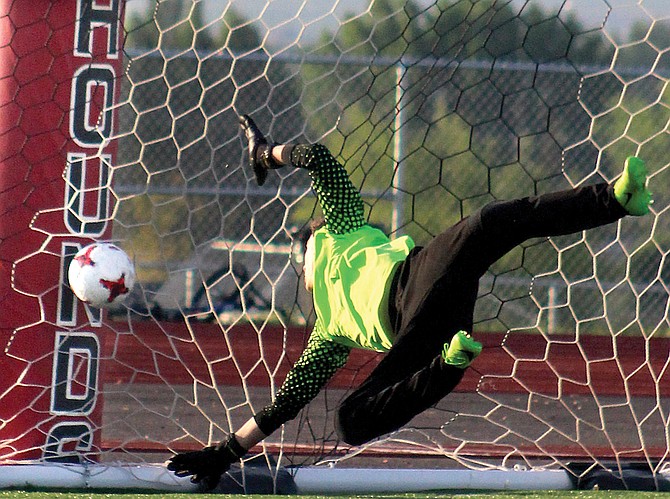 GRANDVIEW — Despite losing out on the District Championship Tuesday, the Greyhounds soccer team will compete in the state tournament next week.
East Valley (Yakima) dashed Grandview's hopes of winning the district title, winning 4-2.
The Red Devils opened the match with a goal just seconds after the starting whistle. Juan Soto struck the back of the net, after sending the ball sailing from 18 yards out on a pass from Paul Cuevas.
That goal jolted the offensive attack. Soto teamed up with Cuevas again in the 12th minute to get past the Greyhounds defense and Cuevas hit his mark.
Cuevas found the back of the net one minute later, capitalizing on a deflection and catching Grandview keeper Antonio Garcia off guard to give the Red Devils a 3-0 lead.
The Greyhounds continued to battle and hit pay dirt when Alex Martinez slipped the ball past East Valley keeper Chris Kirby.
But, the short-lived revival of the Grandview offense was quickly subdued as East Valley's offense turned the team on its heels. Soto made quick work of another deflected shot, striking the ball between the crossbars to take a 4-1 lead going into intermission.
The Greyhounds scored one more goal in the second half. Alexis Correa found the back of the net, but Grandview wasn't able to overcome the deficit.
Garcia had 2 saves, Kirby had 5.