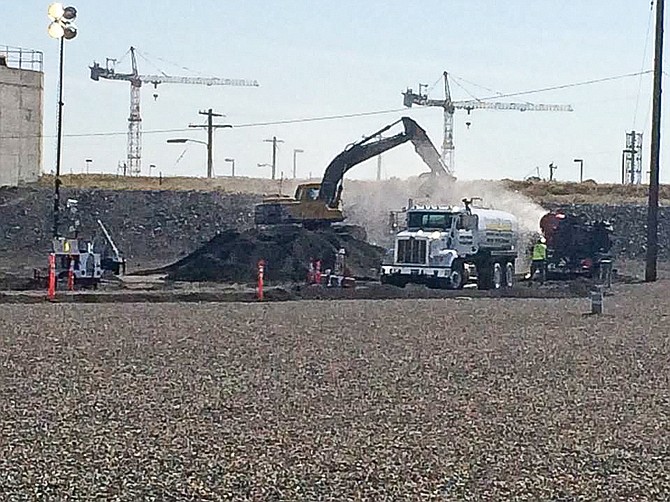 RICHLAND — A clean-up effort is under way, even as officials try to determine what caused a 400 square-foot section of a tunnel to collapse at the Hanford site on Tuesday.
"It has been yet to be determined what caused the event," Department of Energy spokesman Destry Henderson said. "Right now, our focus is on filling the hole."
Approximately 50 truckloads of soil will be needed to fill the hole that resulted from a cave-in discovered Tuesday morning in the 200 East Area.
The rail car tunnel was one of two built out of wood and concrete to store contaminated materials in the 1950s and 1960s, officials said. The tunnel is located next to the Plutonium Uranium Extraction Facility, also known as PUREX.
There continues to be no indication of radiation contamination. Henderson said.
Even so, Yakama Nation Chairman JoDe Goudy said the incident is a reminder of the site's danger.
"The Yakama Nation is extremely disappointed that although we have expressed our concerns for several years, no preventative action was taken," Goudy said.
Meanwhile, safety precautions are being taken for those tasked with filling the hole.
"Workers are wearing protective suits and breathing masks," Henderson said.
All non-essential workers assigned to areas north of the cave-in have were re-assigned yesterday as the clean-up continued.
Hanford crews worked through the evening on Tuesday to stabilize the site near the collapse, Henderson said.
"Crews constructed gravel road that lead to the tunnel's collapsed section, which provided a stable and clear path for workers to fill the hole in the tunnel," he said.
An industrial-sized misting device has also been used to make sure dust is dampened down and doesn't spread.
The collapse was discovered Tuesday during a routine inspection, Henderson said. Hanford officials survey the tunnel three or four times a week.
At that time, as many as 4,700 workers in the 200 East Area and north of the the problem site were told to take cover.
No timeline was available as of press time for how long the clean-up will last, or when officials will uncover the cause of the cave-in.