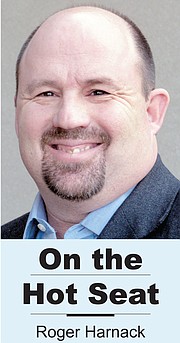 For those of us here in Eastern Washington, President Donald Trump's move to cut federal expenses and thereby curtail bureaucratic overreach is a much-applauded move.
So it shouldn't come as a surprise that our state's environmental activist land czar wants federal agencies to get more money than what Trump has proposed. And it's unfortunate that Public Lands Commissioner Hilary Franz is sounding alarm bells on federal expenses for which she's not responsible.
I guess she's complaining because her own state Department of Natural Resources is going to have to expand timber harvests, become efficient and consider halting overzealous land-use restrictions.
Franz's complaints aren't due to a need for more funding for management of federal forests. They stem from a need to continue to push her extreme environmentalist views.
Washington state has 12,705,335 acres of publicly owned land that have been ceded to bureaucrats — instead of the private sector — to manage. That includes forests currently under federal jurisdiction, forests that rightfully should fall under local or state jurisdiction.
Franz — who made her climb up the political ladder by pushing an extreme environmentalist agenda as Futurewise's former executive director and attorney — is crying foul rather than taking the necessary steps to improve forest management.
According to Franz, the Trump federal budget puts state residents in jeopardy because it will increase so-called "fire borrowing" — borrowing money from other activities to pay for forest fire response. But she fails to say that many of the devastating wildfires we've had in recent years occurred on land managed by the state, too.
Now that she's taken the helm of the state Department of Natural Resources, it's her job to find a way to reduce fire risk, keep forests open for all recreation — including motorized uses — and improve forest revenue.
Rather than whine about money that isn't hers to begin with, wouldn't it be nice to hear that she would take steps to increase timber harvests, ease regulations on the removal of already downed timber, reopen the backcountry trails and roads her predecessor shut down and improve communications with local officials on the front lines.
Franz says our state has 2.7 million acres of forests susceptible to wildfires.
Regardless of whether her number is accurate or not, the reason our forestlands are vulnerable is a lack of responsible management. And fire is Mother Nature's way of managing overgrown forests when our state and federal officials are too weak or too politically motivated to effectively manage the timber.
Looking back over the past few years, Washington Gov. Jay Inslee and former President Barack Obama's administration blamed our fires on global warming. They refused to acknowledge that failed forest management practices were primarily to blame.
Here are a few examples:
Carlton Complex — The largest wildfire in state history, the 2014 blaze burned 256,108 acres and destroyed 237 homes, 53 cabins and numerous other barns and outbuildings.
The fire began initially as 3 lightning strikes. State Department of Natural Resource crews refused to let Okanogan County residents extinguish the blazes.
A couple days after they started, the winds became gusty and the temperature soared to more than 100 degrees, fanning the flames that would ultimately nearly destroy the city of Pateros.
The fire pattern resembled a donut, with a green patch of trees and grass in the middle — that land was being managed by Gebbers Farms. The burnt areas were under management of state and federal forest officials.
Stickpin Fire — The 2015 fire that ignited from lightning in 2015 burned from Republic north to nearly the Canadian border and east almost to the Columbia River.
The main fuel for the fire — a massive amount of downed timber, sometimes five or six feet deep on the forest floor.
Once the fire reached the downed trees, flames raced up the living ones and reached 200 or more feet into the sky.
Twisp River — In 2015, three firefighters died in the blaze in the Methow Valley after their fire truck went off a forest road that hadn't been well maintained.
That's only three of the myriad of major forest fires we've had after years of failed management practices.
Franz needs to learn that money won't improve forest health. The way to improve forest health and reduce wildfire risk in Washington state is to thin and remove bug-infested trees, remove downed timber from the forest floor, improve road and trail access, and allow for more commercial timber harvests.
Where is a silviculturist when you need one?
Stop pushing extreme political agendas and get down to the business of forest management.
— Roger Harnack is the editor and publisher of The Daily Sun. Email him at rharnack@dailysunnews.com.