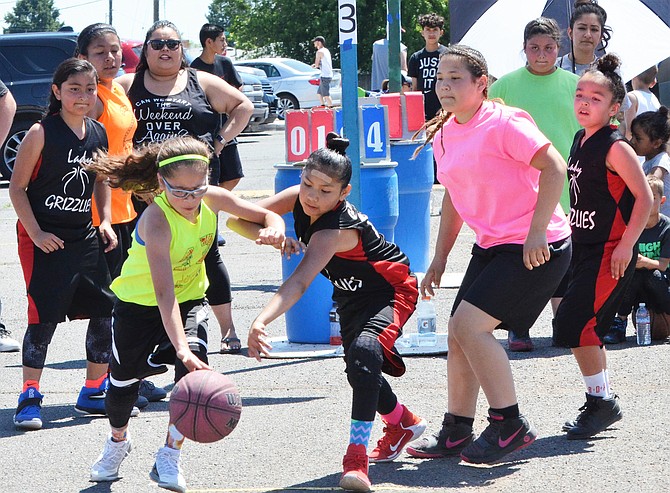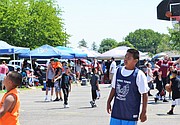 GRANDVIEW — More than 200 basketball competitors filled the parking lot at Grandview High School on Saturday.
The excited youngsters and adults were there for a fundraiser — Hoops for Hope 3-on-3 basketball tournament — to benefit Extra Mile Student Center.
"There are 168 children in the tournament," Kathy Iwami, one of the center's directors, said.
There were another 80 adult participants in the tournament. A total of 42 teams competed.
Approximately $3,000 was raised as a result of the event, which benefits students seeking tutoring and after-school activities at the center.
Winners include Bel Air Academy of Grandview — Ulyses Medina, Markos Mendoza, Alex Ledesma and Andrew Gutierrez — in the C division, the varsity team of Team Genaro of Grandview and Mabton — Steve-O Peralta, Martin Peralta, Rudy Herrera and Raf Martinez, and Squad Gang Gand Gang — Isaiah Ruiz, Tyler Herrera and Isaiah Harris of Grandview, Mabton and Tri-Cities.
There were eight junior divisions, Extra Mile's Gene Iwami said.
The winning team of the first-grade boys was Prosser Raptors; second-grade boys was Hoop Mafia of Sunnyside; second-grade girls was 97 Ballaz of Wapato; fourth-grade boys was Young Guns of Grandview; fourth/fifth-grade girls was Prosser Flight; fifth/sixth-grade boys was 509 Insanity of Sunnyside; sixth/seventh-grade girls was Regulators of Sunnyside and Wapato; and seventh/eighth-grade boys was Trio of Troubles of Grandview.