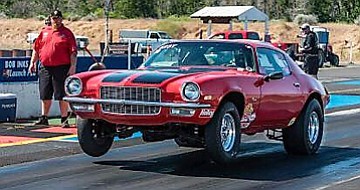 WAPATO — Satisfying their love of adrenaline and fast cars at Renegade Raceway were numerous competitors and fans of drag racing this past weekend.
They took part in the Dee Adams Memorial Fire and Thunder competition.
Friday's street legal winner was James Packer, the winner of the Mopar class was Dan Ridgley, Terry Holloway won the street bike class, Jazzy McGrew won the jr. street race, the high school winner was Collin Thomas and Brent Hodson won the all run class.
Saturday's thunder winners were Brent Jones and Dane Lachelt, Warped Speed-Richard Smith won the jet funny car class, Phil Hudlow won the pro class, the bike/sled winner was Karren Holloway, the sportsman winner was Kenny O'Keefe, Jaxon Hughes won the jr. lightning class, Parker Miller won the jr. thunder, the AFX shootout winner was Dave Carmen, and Michael Dalrymple and Josh Dalrymple, both of Sunnyside, won the super comp and super street races, respectively.
Sunday's winners were Norm Braedt in super pro, Dustin Ward in pro, Stacy Hesch in bike/sled, Troy Adams in sportsman, Ian Theofelis in jr. lightning, Raylee Higgins in jr. thunder, Thor Prestegaard in AFX shootout, David Thornton in super comp, Gary Erickson in super street, Chris Welch in NW nostalgia and Dave Kennedy in GTO tour.