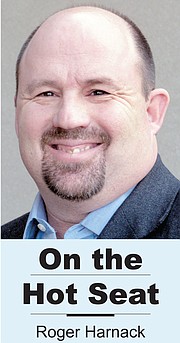 For the last several days, I've been trying to track down something intentionally being overlooked in the shootout between Washington State Patrol trooper Nate Dawson and three defendants.
Given the immigration debate going on nationally, I'm curious if defendants Felipe Cortez-Barajas, Jose Alvarez and Manuel Jovanni Aviles are U.S. citizens or green-card holders.
Normally, I wouldn't be asking that question, but court documents released this week have me wondering.
First, let me recap briefly.
Shortly after 9 p.m. Monday night, Oct. 23, Dawson tried to stop a car speeding through the Sunnyside area on state Highway 241. Three men were in the car (although Dawson's initial report suggested he thought there were only two).
Rather than stop, the men led Dawson on a high-speed chase that ended in the driveway of an innocent rural homeowner outside Grandview. There, the men jumped out of the vehicle and began shooting at Dawson, striking his vehicle several times.
Dawson called for backup and law enforcement spent the night trying to apprehend the men who were able to slip away in dark vineyard and hop fields.
The defendants found their way to Mabton, back to Grandview, then to Outlook and two — Cortez-Barajas and Aviles — were finally apprehended in Othello.
At the time of their arrest, Cortez-Barajas was carrying Mexican identification. Court records also show he was previously convicted of being an alien in possession of a firearm.
Just this week, Jose Alvarez was arrested at a Walmart in Yakima, he remains in Yakima County Jail along with the other two defendants (and another man who helped one of them). Among charges relating to the shooting is a hold for the U.S. Marshall's Service.
Given Cortez-Barajas' previous conviction and his carrying of Mexican identification, I had to ask if he is a U.S. citizen. I also had to ask why the U.S. Marshall's Service requested a hold on Alvarez.
The answers I received so far are not surprising.
In accordance with Washington State Patrol policy, troopers did not ask if they were citizens.
Now, you might think that is an error. But I ask you, do you want police asking you for your "papers" every time you encounter them? I think not.
Still, this case revolves around at least one suspect who has a conviction related to being an alien.
So, I have to ask, if he is here illegally, why was he on our rural streets carrying tactical firearms with accomplices who wore tactical vests? Was he arrested, convicted and released by our courts? Was he deported and re-entered our area illegally? Or is he here legally on a work visa, but still prohibited from carrying a firearm legally on U.S. soil?
And why is Alvarez being held for the U.S. Marshall's Service? Does the hold relate to his immigration status?
Given the high-profile nature of this case here in the Lower Yakima Valley, these are questions that need to be answered publicly.
I know questions like this are highly charged. But the public should know these answers now, while our nation is in the midst of a national debate about both legal and illegal immigration.
In the meantime, I'll keep looking for answers. When I get them, I'll share them.
— Roger Harnack is the editor and publisher of The Daily Sun. Email him at rharnack@dailysunnews.com.