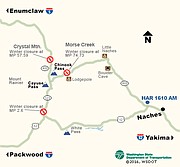 NACHES — The state Department of Transportation will decide today if Cayuse and Chinook passes will reopen.
The passes on the north side of Mount Rainier were closed Saturday due to heavy snowfall.
State Highway 123 through Cayuse Pass is closed between Stevens Canyon and Crystal Mountain Boulevard on the northwest side of Mount Rainier. State Highway 410 is closed from Morse Creek west to Crystal Mountain Boulevard.
Transportation officials didn't say when they would make the call to reopen or leave the passes closed.
On top of snowfall in the mountains Friday and Saturday, an additional 3-7 inches were predicted to fall last night in the pass.
Today's high temperature in the pass is expected to top out about 24 degrees; the high at Mount Rainier is predicted to be 5 degrees.
A winter weather advisory remained in effect for the area last night.
The advisory means snowfall will make driving difficult in the area.
Meanwhile, much of Eastern Washington was blanketed in the first snow of the year.
Snow was falling in the Tri-Cities and Prosser yesterday, but not in the Sunnyside area, where a light rain fell.
Driving was difficult in areas of Interstate 90, state Highway 2 from Waterville to Airway Heights and across rural roads on the Columbia Plateau, where slush and ice made conditions slick.
The National Weather Service is predicting clear weather through tomorrow night.
Meteorologists evaluating the next cold-weather front expected to arrive Wednesday said snow may be possible.
"A chance of snow after 10 a.m.," the Wednesday forecast for the Sunnyside area said, adding that Wednesday night "snow likely."
Snow may continue into Thursday, when it is expected to turn to rain.
Rain will continue through next weekend, the National Weather Service
said.