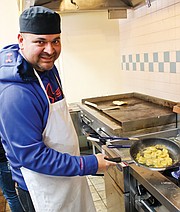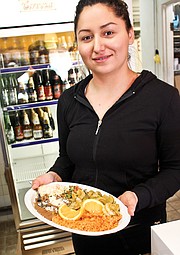 SUNNYSIDE — After months of speculation, concerning activities going on in the old Skippers Restaurant, Monday saw the official opening of Con Sabor a Mexico, 2150 Yakima Valley Highway.
Instead of clam chowder and fried shrimp on the menu, Carlos Magana will be offering Coctel de Camarones (shrimp) and Ceviche de Pescado (fish).
Magana was surprised by how busy the restaurant was within hours of opening. He was enjoying a brisk lunch crowd.
"I'm very happy," he said.
Magana, who is no stranger to the local business community, already operates the Sunnyside thrift store on Yakima Valley Highway and a taco truck, called El Pariente.
Magana took the step to open a restaurant at the urging of business owner Silvia Ramos. "He had a real vision for his business," she said.
He worked hard to make sure he had all his permits in hand before he opened his doors.
The restaurant, scheduled to be open, from 10 a.m. to 10 p.m., will feature a style of cooking from the coastal region of Colima Province of Mexico. In addition to fresh seafood dishes, the tortillas are made fresh in house, per order.