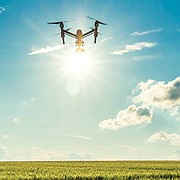 SUNNYSIDE — The Center of Excellence for Aerospace and Advance Manufacturing is moving right along with the development of an office in Sunnyside.
The Center's executive director, May Kay Brederson announced that the Center is seeking a director for the office.
The reason for this office is that the Center of Excellence will be assisting educational institutions in the area to prepare the workforce for the high-tech future.
At first, it was thought this office would be about drones in agriculture. But Brederson learned at the first meeting in September of the advisory board that the mission would be broader.
Instead of unmanned aerial vehicles, the office will deal with unmanned systems. Examples would be marine research systems and driverless cars.
"Amazon uses robots," Brederson said.
The main function of the center's Sunnyside office will be to bring together organizations, the people and tools to help the region's youth receive this high-tech training.
This position is a full time 12-month per year grant-funded job. Expected duration is through June 2019.
Continuation is dependent upon annual renewal of grant funding, Brederson said.
This position will be housed at Yakima Valley Technical Skills Center, Golob's Landing, but it will serve all of the lower valley.
The position title is Project Director—Unmanned Systems.
The Project Director for Unmanned Systems will be expected to provide leadership in promoting and establishing the Sunnyside office as a valuable component in Washington's economic and workforce development initiatives, Brederson said.
The director will serve as Eastern Washington's liaison for business and industry, K-12 public education, Washington State's community and technical colleges and economic and workforce development systems.
The director will assess trends and needs in economic development within the unmanned systems industry labor market to determine professional/technical training needs.
The project director will also develop new or enhanced unmanned systems professional/technical programs that are responsive to business, industry and labor training needs, such as short term certificates, AAS degrees, pre-apprentice and apprenticeship programs.
Brederson said her office has reached out to numerous educational bodies in the region. Two that have signed on are Big Bend Community College and Walla Walla Community College.
Big Bend has an unmanned aerial vehicle program. Walla Walla has an unmanned aerial vehicle program within its agriculture department.
Early-on there was talk of drones for agriculture manufacturing in Sunnyside. Brederson's organization would not be involved with something like that, she said.
But one point of having the Center's regional office in Sunnyside is to encourage lower valley investors to consider a high-tech industries for which students would be prepared.
As for the students, the goal is to prepare them for the numerous jobs that will develop with unmanned systems, from design, to manufacturing to piloting.