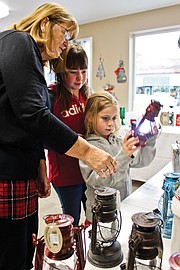 PROSSER — The name and location has changed, and the mission has changed a bit, but the purpose is the same, say the leaders of Northwest Community Foundation.
Formerly known as the PMH Foundation, the name change was completed in July. Other changes included the moving of the foundation's gift shop from the hospital to its new location at 708 Sixth St., said foundation chairman Claude Zehnder.
Where before the foundation was solely concerned with raising money for the community hospital, now the group has expanded its mission to include youth and other community projects, said CEO Frank Lamb.
Saturday, the Community Foundation held a grand opening complete with a ribbon cutting at the Sixth Street Shop,
Manned by many of the same volunteers who worked at the hospital's gift shop, the store, will be open Monday through Saturday from 10 a.m. to 5 p.m. Already committed to be working are volunteers Marla Campbell, Linda Hall, Kathy Aubrey and Sharon Ewart.
"Not only do we have more exposure, but we have additional office space," Zehnder said.
"We continue to be a non-profit organization, now allowing for 80 percent of our funds to be used for community program, especially those involving youth," he said.
In addition to making contributions to the hospital from existing contributions the board recently donated $4,000 to Share House, a teen shelter, in addition to purchasing AED units for local high school athletic programs, as well as other youth programs.
"We have also partnered with the Princess Theatre and its Bud Mercer Legacy Fund," Zehnder said.