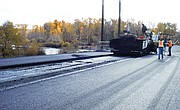 TOPPENISH — The N. Myers Road Bridges, known commonly as the Toppenish-Zillah Bridge, will open with fanfare and ribbon cutting Nov. 29.
That won't be too soon for Toppenish Chamber of Commerce President Paul Newman. He said business owners have felt a downturn in traffic during the nearly two years of reconstruction.
"A lot of people from the lower valley counted on that bridge. It brought people right into downtown Toppenish," he said.
Newman plans to invite his Zillah Chamber counterpart to participate in the ribbon-cutting ceremony.
Motorists have been unable to use the bridges for about two years. They were closed in February of 2016 after flooding washed out one of the bridge approaches.
"We were about to close it any way," Yakima County Public Works's Matt Pietrusiewicz. "We already had the construction company under contract.
In Pietrusiewicz's voice you hear a little pride in this project. People who drove the old bridges will notice a big difference.
First of all, motorists with car troubles will be able to park off the roadway. The bridge decks will be 42 feet wide, Pietrusiewicz said, two lanes with ample shoulders. The old bridges had no emergency space.
"The other (Toppenish-Buena) bridge is a state bridge, and it looks worse than the N. Myers Bridge, but the state will say it doesn't have the money to rebuild," Pietrusiewicz said.
According to Pietrusiewicz, the new bridges cost the county about $13 million.
The big bridge, closer to Zillah, cost $10 million. The smaller bridge cost $2.25 million, with administrative costs taking up the rest.
"Nothing is cheap anymore," Pietrusiewicz said.
Construction of the bridge started a few weeks after it was closed, in the spring of 2016. It went a little slower than one might expect because of fish.
Cascade Bridge of Vancouver never took a break from the work, but it had to do some things out of normal sequence during the July-September fish run windows in the Yakima River.
"They kept working on other things when they couldn't work in the water," Pietrusiewicz said. "The critical path was restricted somewhat."
The last major part of the project to do is a pedestrian barrier to afford people on foot protection from falling into the river.
Pietrusiewicz said there will be some cleanup type work still going on the days of the first auto crossings.