OLD-TIMER'S VIEW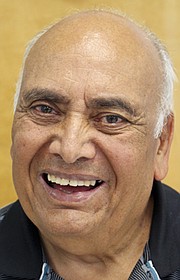 For years, my brothers and sisters, uncles, aunts and cousins have said "Really?" when I've said I'm driving to a vacation destination.
There are two main reasons I drive.
I don't like being in a flying cigar-shaped sardine can for extended periods. The longer I'm up, the more I sense the odds of coming down abruptly.
Would you believe it? I served in the United States Air Force. I flew all over the western U.S. and loved it.
The other reason I drive is that I love to see this country. I love the evergreen-covered mountains of the Northwest, the oceans of California and Florida, the deserts of the southwest, the plains of the Midwest and history of the East.
Mostly, I love seeing how mankind has taken advantage of the raw earth God gave him to develop residential areas, agricultural areas, inventions that improve life and economies based on those inventions.
By driving, I have visited about 40 states. I've not been disappointed by any of them. Name me a state, and I'll tell you something good about it.
The reason relatives have been incredulous is that my vacations are usually long. I've driven to Florida five times, to California, Arizona and New Mexico several times, and Virginia and the Carolinas once. My short trips have been to Montana and Oregon points.
Just think of all I would have missed had I flown on those occasions. I would not have visited Metropolis, Mo., where Superman is a big deal.
I would not have visited Arches National Park in Utah or gone to the Fourth of July rodeo in Loveland Colo.
So last week, I went on another vacation to a distant place, but I had only a week to complete it.
Thirty-five cousins from several states met in Arizona to walk in the footsteps of our grandparents, parents, aunts and uncles in Florence and Patagonia. We went to Nogales, on the border, and back.
More about that adventure later.
I was so excited about this event that I decided Pat and I would fly.
"If you can do it, I can do it," she said.
If we had driven, we would have been worn out when we got there and got back, with only three days to enjoy. And the tickets on Allegiant Air were priced in such a way, it was cheaper to fly.
I was wearing shortsleeves and carrying a light jacket when I boarded in Pasco at about 40 degrees. I got off in Mesa about two hours later at 80 degrees and left my jacket in the car for the week.
It was wonderful weather, usually around 80 for a high. Our hosts, cousins Jose and Gloria Hernandez, were cool. We required cooling fans in our room so we could sleep.
It was cooler down at Tucson and even cooler at Patagonia but, overall, they were all nice Yakima Valley summer days.
Our ancestral adventure ended. We boarded the plane in Mesa with a temperature of about 60 degrees.
When we got off in Pasco two hours later, I nearly froze walking out of the plane into 35 degrees. I struggled to get my jacket on because Pat had rushed to get our car from the parking lot. A nice man stepped up and helped me get the second arm in.
I came out of baggage claim to get into the car and couldn't do it fast enough. When I finally got into the warm vehicle, my brilliant wife had the radio on a Christmas music channel.
Perfect. We sang as we drove through a light snowfall and two inches of snow on the ground in the Tri-Cities area.
We got home to Granger, and I cranked up my old beater and came to work. Roger was here working, too, smiling and laughing while I was dying. The thermostat was at 72, but the longer the day went, the colder I got.
That night Pat put an extra blanket on the bed – ugh, a St. Louis Cardinals one – and I dove in at about 8 o'clock. I didn't really warm up until about 1 p.m. the next day.
Now I can't fly because I go from hot weather to cold weather too quickly.
Yes, really.
— Ted Escobar is the managing editor of The Daily Sun. Email him at tescobar@dailysunnews.com