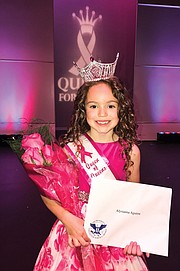 Alysianna Aguirre, 5, has achieved a huge accomplishment for someone her age.
Her mother Janet Aguirre of Sunnyside reports that the Sunnyside kindergartner received the President's Volunteer Service Award.
"She received the gold award for providing more than 100 hours volunteered during a 12-month period," Aguirre said.
Alysianna received a pin and certificate during ceremonies at the "Queens for a Cure" Pageant held in Renton Sunday. She also received a letter from the White House signed by President Donald Trump. 
In addition, Alysianna also received the 2018 Queen of Queens title and will be able to promote breast cancer awareness for another year.