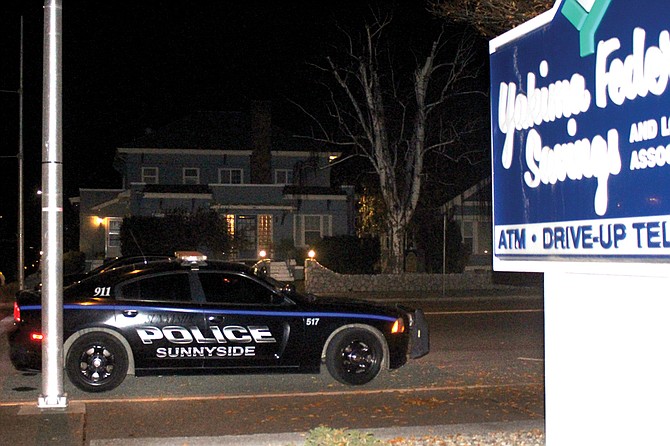 SUNNYSIDE — Police are still looking for information on the masked man who robbed Yakima Federal Savings and Loan about 4 p.m. Tuesday.
The suspect is described as a white or light-skinned Hispanic male, standing 5-foot-3 to 5-foot-5, and weighing about 130 pounds. He was wearing a dark-colored hoodie with a flat-bill hat, dark jeans and a white dust mask.
"Just before 4 p.m., a male subject, physicals listed above, entered Yakima Federal and presented a note demanding money to one of the tellers," police Cmdr. Scott Bailey said. "No weapon was displayed and the teller turned over an undisclosed amount of money."
The suspect fled the bank on foot, but video footage from the bank and neighboring businesses caught him getting into a dark-colored sedan, Bailey said.
"Detectives are continuing to work the case and anyone with information is asked to contact the Sunnyside Police Department at 509-836-6200," he said, adding that community involvement helps solve crimes. 
"This year we have been very successful in solving several complex investigations with the assistance of the community," he said. "We hope to continue these partnerships to make our community a safer place."
The financial institution at 801 E. Edison Ave. reopened for business yesterday, but is closed tomorrow in observance of Veterans Day.