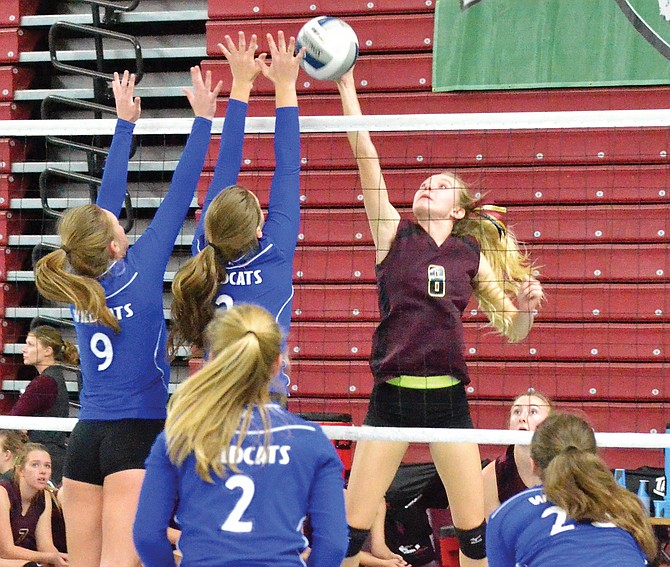 YAKIMA — The Sunnyside Christian volleyball team is competing in the 1B State Volleyball Championships at the Yakima Valley SunDome today.
They made it into today's consolation brackets after defeating Providence Classical Christian, 3-0, yesterday morning.
The win advanced them to the quarterfinal match against Colton last night, but the Knights fell in three sets to the Wildcats.
The best the Knights can do is win fifth place today.
That's if they weren't eliminated in an 8 a.m. match against Almira-Coulee-Hartline.
If the Knights won, they will have competed for fifth/sixth against the winner of an 8 a.m. match between Puget Sound Adventist and Quilcene.
Coverage of today's matches will be in Monday's edition of The Daily Sun.
Against Providence Classical Christian yesterday, the Knights opened with a 25-14 win. They won the second set, 25-16. They clinched the match with a 26-24 third-set win.
They were led in serving by Alyssa Martin and Krista den Hoed. They were 17-for-18 from the service line.
Martin delivered 5 perfect passes, had 15 digs and provided 6 assists.
den Hoed had an ace, 2 kills, 6 perfect passes and dropped to the floor for 27 digs.
On the net, Emily Banks took center stage with 16 kills. She was 10-11 serving and had 7 digs.
Destiny Fonseca also served well. She was 10-11 on the line, had an ace, provided 5 assists and dug up the ball 8 times.
Madi Candanoza and Sailor Liefke were also instrumental on the serve-receive. Each of them had 10 digs.
Candanoza delivered 9 perfect passes, while Liefke had 3 kills, 5 perfect passes and was 7-7 serving.
With 9 service points on 9 serves was Madison Bosma. Two of those serves resulted in aces. At the net, she had 5 kills and 5 blocks. Bosma also tallied 5 digs.
The Knights didn't fare so well against Colton, losing the first set, 20-25.
Seemingly off-focus, they lost the next two sets by identical 14-25 scores.
With a perfect 17-for-17 from the service line was den Hoed. She delivered 3 aces and 12 perfect passes. She also contributed from the back of the court with 4 digs.
Martin was also perfect from the service line. She was 7-for-7 with 2 aces. She also delivered 6 perfect passes and provided 6 assists. From the back of the court, Martin had 8 digs.
Banks was 6-6 serving with 11 kills, a block and 12 digs.
Liefke served the ball 9 times and had two serves fall short of going over the net. She had 4 kills and 5 perfect passes. Where she persevered was in back, where she had 12 digs.
Fonseca also did well deep on the court with 9 digs. She provided 4 assists and was 5-for-7 serving.
Candanoza delivered 6 perfect passes and had 4 digs.