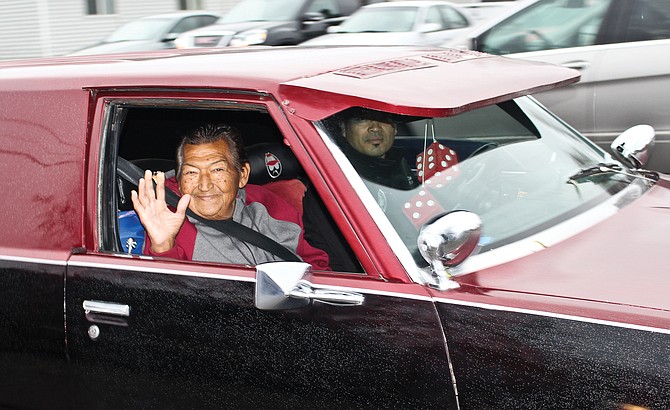 SUNNYSIDE — For weeks, his outside travel has been limited daily visits to the Mt. Adams DaVita Dialysis Center and home.
Seeing the same scenery every day reminded him of the days when he still rode his own car, a custom 1978 Chevy station wagon.
Wednesday, Ramiro Almaguer, 71, had his dying wish fulfilled, thanks to his sister Nellie Jaramillo's efforts. And the aid of Sunnyside Fire Department emergency medical technicians.
"He told me he wanted one last ride around town to see the sights," Jaramillo said.
The more her brother thought about his two-tone burgundy lowrider, the more he knew he needed at least one last ride in the car.
The car, which the retired semi-driver spent years modifying and entering in Yakima Valley car shows, has been parked in the yard for years.
"I purchased the car for $350, but it's worth so much more than that to me," he said.
Recently Almaguer asked for the car to be parked under his bedroom window on McClain Drive, so he could see it every day.
"I have 17 trophies for my Baby," he said, admitting when began working on it, he sometimes called the car by a less flattering name.
Wherever he took the car, it caught the eyes of judges — for example at the Granger Menudo Festival, the Wapato Tamale Festival and the 2004 Cinco de Mayo Festival.
"That was our first show," he said.
Almaguer brought home a third-place trophy from that event held at the Mid Valley Mall. He was known all over the valley by his car, his sister, Lupe Delgado said.
Almaguer's driving has been limited for the past four years as diabetes cost him his driving leg.
Managing to arrange his last ride seemed like a simple enough request. But Almaguer's fragile health made it difficult for his family to get him in and out of their vehicles, let alone his prized lowrider.
But, following a Wednesday morning hospital visit, courtesy of EMTs, Jaramillo decided to ask if they would help give her brother his cherished ride.
"They said yes," Jaramillo said. "I was surprised but very grateful."
According to Fire Captain Tony Castillo, the department tries to honor special requests like Almaguer's.
"We do these kinds of things, if we can," he said.
Castillo and EMT Nelson Talamantes were on hand to help Almaguer get seated in the car. For a few minutes, it looked like the ride might be delayed when Castillo and Talamantes went on an aid call across town. But they returned and Almaguer was ready with coat in hand.
By 3:30 p.m., the EMTs had Almaguer seated in his car with his Tejano music turned up so he could enjoy it as Castillo took the Chevy for a cruise through town.
As the car pulled away from his sister's home, Almaguer was grinning, the happiest he has been in weeks.
"He was so happy and excited when he got home," Jaramillo said. "Thanking me and crying."
"I'm just happy I was able to get him his ride," she said.