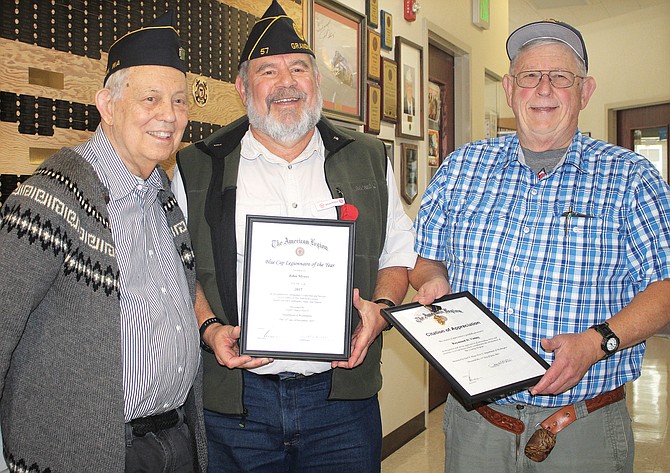 GRANDVIEW — About 30 people turned out Saturday morning for the annual Fred E. Hayes Post No. 57 American Legion awards brunch.
The Veterans Day event featured short presentations from three students who attended Boys and Girls State events over the summer, as well as a short awards program. It also included brunch for attendees and their families and a Veterans Day observance.
Post Cmdr. Jim Davidson served as emcee for the event, which began with brunch and the POW/MIA observance.
Grandview High School seniors Elaina Gonzalez, Abraham Cena-Avina and Marlene Castilleja took time to share their Boys and Girls State experiences — the post sponsored the trio as well as others as juniors.
Gonzalez and Cena-Avina both noted the events were at first awkward, but then fun and exciting.
"It was fun, and a new way to meet people," she said, noting she made friends with girls from Prosser, Sunnyside and other locations.
"Politics is something I don't really like to get into," Castilleja added, noting that she was thrust into living the government life at Girls State.
"I learned a lot in a week's time," she said.
Cena-Avina called his Boys State attendance at the Warm Beach Conference Center near Stanwood "one of my key things to gloat about" to other students.
For him, the awkward beginning turned into budding friendships and a fun learning experience.
He also noted, "they fed us really good."
Davidson said the local post sponsored nine girls, 10 percent of the total girls state attendance.
He hopes the post can sponsor more next year.
"If you know someone, encourage them to apply," he said, noting the program is open to high school junior the summer before they start their senior year.
Beside the presentations, the post also recognized a few individuals.
Post member Ray Vining was recognized for previously receiving the Boys Scouts of America Square Knot Award and was presented a Citation of Appreciation for his dedication to the community.
Post member John Myers was presented the Blue Cap Legionnaire Award for his community service, as well.
Daily Sun Publisher Roger Harnack received the Fourth Estate Award for his commitment to open government.