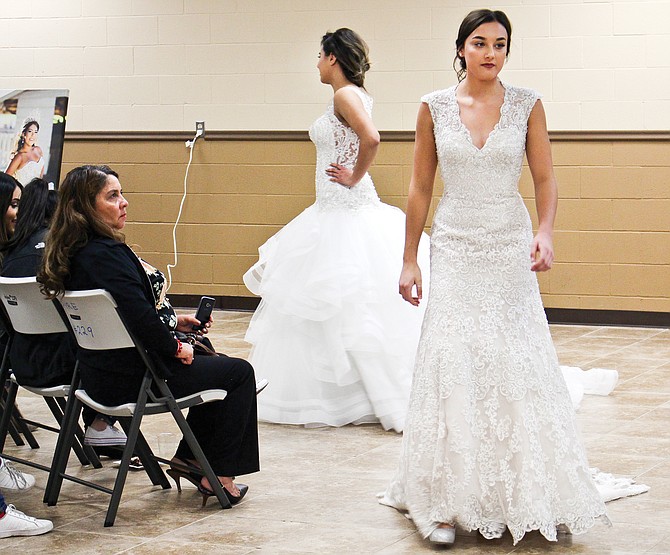 SUNNYSIDE — Planning ahead and sticking to a budget were the primary messages given to participants at the "Here Comes the Bride Bridal Workshop" on Sunday at the Aspire Center on Decatur Avenue.
More than 11 wedding-related vendors shared their tips, trials for unhappy brides and how to avoid mishaps for a perfect wedding day.
Florist Sarah Cook and the Morris Floral staff reminded young brides to think about the season in which they will be married as they order flowers for their special day.
"Ordering flowers from out of season can be costly," she said.
Remember to seek out music vendors, whether bands or deejay services well in advance of the event, said Garrin Moore, who has provided the sound for weddings and other special occasions in the area for nearly 20 years.
"You are going to want someone other than your cousin playing his collection of music on your day," he said.
"Think about your songs and let the musicians know in advance what you want played," Moore said.
Just remember we get booked well in advance, too," he said.
The workshop also included a two-part fashion show from Fashion Corner, as well as catering options from Bon Vinos to Conquistador, a wedding planner and photography options. Advice about submitting engagement and wedding announcements was also offered.
The rule of thumb is to submit the engagement announcement about two months before the wedding. But, with the holidays coming up, now would be a nice time to get the word to the newspaper, the Daily Sun News community writer Julia Hart said.
"Plus, of all the things you do for your wedding, placing the engagement and later, the wedding announcement in the newspaper is free," she said.
Workshop organizer Irene Jochen was pleased with the local special occasions event.
"I think we will be doing this again next year," she said.