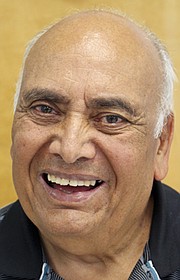 After half a day on the search for our grandfather's grave in New Mexico, sister Fran, brother Bob and his wife Vicki, and sister Jen and her husband Tom were frustrated and hungry.
There were several restaurants in Silver City. They chose one that Fran thought looked modern and clean.
As they waited for and had their lunch, they continued to discuss their frustration, wondering what they should do next.
I had searched for Grandpa Ramon Escobar years ago with no luck. A week before Bob went, Richard tried. No luck.
Tyrone was where Dad said his dad was buried. Even when I contacted the church just before our vacation in the Southwest, Oct. 29-Nov. 5, documents there had grandpa buried in Tyrone.
But people in Tyrone made it very clear there is no cemetery in Tyrone. Fran, Bob and Jenny heard the same story.
They were about to finish lunch on the 6th when a woman who was dining nearby approached.
"I overheard your conversation about a cemetery in Tyrone," she said. "I'm the mortician here, my family has had the funeral home since 1902."
The woman explained there is a cemetery in Tyrone. It's on the property of an operating mine. The next day, as the group was driving toward Tyrone again they received a call from a woman at the mine.
"We found your grandpa," she said. The excitement level in the car went up dramatically. The group had to don hardhats.
The mine does not maintain the cemetery. It's sandy with weeds and grass. But the mine had a map of the graves. Grandpa is in grave No. 166.
"Do you believe in fate?" Bob asked me on the phone. "What were the chances we'd go that far and pick the restaurant where we'd run into the one person we needed to see?"
Burials at that cemetery ended decades ago, after Grandpa's death in 1919. Burials were free to families of people who worked in the mines.
The trip my siblings made to Silver was after our families gathered in Arizona with others from around the country to walk in the footsteps or our mother and her brothers.
Mom was a Franco. Her oldest sister and brothers were born in Patagonia. She and the last two sisters were born in Florence.
Bob came up with the idea of making this journey. He told of this plan, after the 2016 Franco Family reunion in Spokane. I liked it. But I wondered if we'd get more than a dozen people. We ended up with 35, including two cousins on the Escobar side of our family.
At Florence, we went to the land that Grandpa Manuel had farmed. It belonged to the Feliz family back then and still does.
Peter Feliz, the owner now, invited us to his place so he could share what he knew about our family. He was stunned when he saw the crowd, but he was gracious and actually excited.
Peter, 92, told us his great-grandfather owned that land before Arizona became part of the U.S. From about 1913-1920, Grandpa Manuel and our parents farmed right along the Gila River on the Feliz property.
Peter's great-grandfather had arranged with the local Indian tribe for about 1,000 acres along the Gila. The family had to make a similar arrangement with the U.S. government after the Gadsden purchase back in 1854.
Peter didn't know our mother and uncles. He was born just after they left for California around 1921. But he'd heard about them from his family.
During his presentation we learned we had a great-uncle by the name of Lopez. If I got the story straight, he was the half-brother of Grandpa.
At Patagonia, we didn't learn anything about the family, but the museum director gave us a history of the community. Most people there at that time were miners.
The trip was exhilarating. We walked in our ancestors' footsteps, ate the food they ate and enjoyed the music they enjoyed.
The topper came at dinner near Florence. As Pat and I walked into the Guadalajara, I could hear music and hoped it was live.
When we turned a corner toward our banquet room, I saw three singers with guitarron, guitarra and violin. They were excellent all around.
They were hired to roam the restaurant, but we held them up with tips. When the manager reminded them they were supposed to roam, they left.
But they were back in 10 minutes and we listened to more of the songs with which our grandparents and parents had grown up.
— Ted Escobar is the managing editor of The Daily Sun. Email him at tescobar@dailysunnews.com.
More like this story