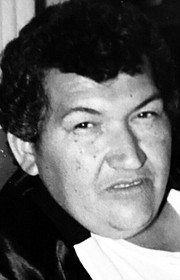 Ramiro Villegas Almaguer, 71, of Sunnyside went home to be with his Lord and Savior on Nov. 12, 2017 surrounded by his loved ones at home.
He was born Sept. 14, 1946 in Pharr, Texas to Juan De Jesus and Estefana Almaguer.
Ramiro had several names he was so lovingly called by his family and friends, Ramiro, Bro, Rambo, Ramos, Tio, Chief and TR.
Ramiro enjoyed talking to his brother John, 5 to 10 times a day, not a day went by without calling him, he loved his brother very much.
Ramiro loved listening to Tejano music, dancing, and spending time with his siblings, nephews, and nieces. He also enjoyed going to Hermiston and visiting family, having BBQ's, fishing and his job working as a semi-truck driver for his brother John.
Ramiro's thing that he truly loved and enjoyed the most was his custom 1978 wagon and car shows. He was so proud of his wagon. He would enter it in car shows, where it won 17 trophies at various car shows. Ramiro was loved by all his family and so many friends.
Ramiro is survived by one son; Adrian Brophy Almaguer, one stepson; Angel Almaguer, three granddaughters; Laikyn (TJ) Grover, Dariene (Zac) Corean, and Logan Brophy Almaguer; two brothers; John (Mary) Almaguer, Albert (Eva) Almaguer, three sisters; Maria (Joe) Delgado, Hopy (Pete) Delgado, Nellie (Frank) Jaramillo, many nephews and nieces.
He is preceded in death by his parents; Juan De Jesus and Estefana Almaguer, one brother; Lucio Almaguer, grandparents; Sylvester and Mercedes Almaguer, and Agustin and Juanita Villegas.
Viewing and visitation is from 4 – 8 p.m. with the recital of the Holy Rosary at 6 p.m., Friday. Nov. 17, 2017, at Valley Hills Funeral Home in Sunnyside.
Funeral services will be at 10 a.m. Saturday, Nov. 18, 2017, at Saint Joseph's Catholic Church in Sunnyside, followed by graveside services at Lower Valley Memorial Gardens Cemetery. A reception will be held at Saint Joseph's gymnasium following graveside services.
Condolences can be sent to www.valleyhillsfh.com.
Valley Hills Funeral Home in Sunnyside is in care of all arrangements.