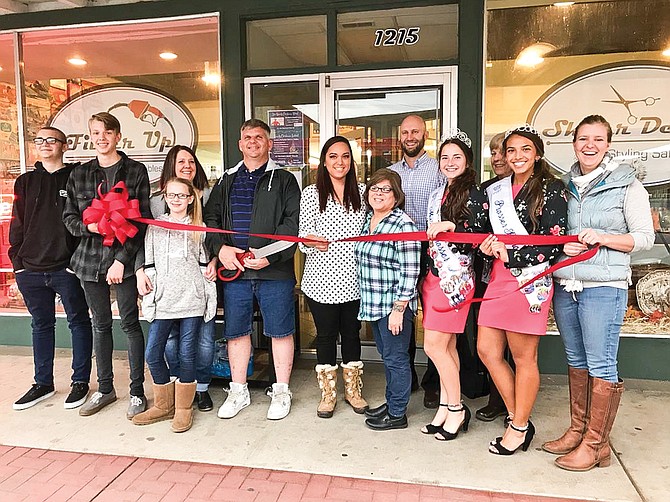 PROSSER — Claiming to be a clean, respectable hoarder, John Dixon, with the aid of his wife Shelley, is now in the business of selling antiques at Fill'er Up Antiques and Collectibles, 1215 Meade Ave.
Wednesday the couple held an open house to introduce the store and reintroduce the neighboring hair salon to the community.
Saying his store is a mixture of the expected type of antiques, Dixon really specializes in 'man cave' items.
"It's what I like to collect," he said.
Dixon, 47, said about a third of the store's inventory is from his own collections and the rest of the inventory came from a former dealer who was going out of businesses.
"I had done a lot of business with him, so it was a good fit," Dixon said.
Dixon said he has been collecting, buying and selling his finds since he was 16.
A farmer for the past 15 years, Dixon decided about 14 months ago to sell his 84-acre farm, and when the building at 1215 came up for sale, "…I took the plunge and we decided to buy it,"
He said the decision to make the career switch also had to do with his son Nate's bout with cancer,
"We just decided life is short," he said.
Nate, 18, is now cancer free after having a stem cell transplant.
"I'm loving this," Dixon said of his career change.
"I'm a people person and it's a little hard to be that working on the farm," he said. "We're a bit different than the other vintage stores in town," he said.
Old logo signs for oils, gasoline companies and an array of those "cool" American Picker" automotive items fill the store shelves, as well as glassware clothes and furniture.
Dixon is also interested in all things from action figures to comics, soda and beer bottles, arcade machines and "…just whatever is cool."
With the building came a hair salon, which had been in business about more than 30 years next door.
Dixon decided to spruce it up and the stylists will continue to operate at the shop.
Shear Delight has been newly refurbished and is open 10-5 Monday-Friday for appointments and walks ins.
Filler' Up is open Tuesday through Saturday 11 a.m. to 6 p.m.
"We also plan to be open during Thanksgiving in Wine County weekend (Nov. 24-26)." he said.
"Now, we're going to have some fun," he said.