OLD-TIMER'S VIEW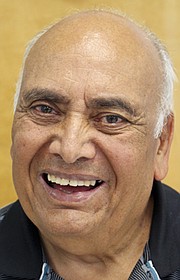 Many are the things people say they are thankful every year as they sit for their Thanksgiving meal.
Kids often mention a toy or a pet. Teens may mention a car or a cell phone. Adults often mention loved ones, especially those who have survived a serious illness.
The people who organized the first Thanksgiving dinner did so because they were grateful for survival.
The Pilgrims, as the history books refer to them, nearly lost everything their first winter in America.
They operated as a socialist society. They were going to put their food production into one big pie. Then they were all going to share it equally.
Some people did produce, and the shared food went quickly. Many died that winter
The second year, the leader of the group decided to go with free enterprise. Everybody produced, and there was plenty of food to get through the second winter.
That's why they were celebrating.
What I am thankful for, actually every day, is the country to which those experiences led.
George Washington, Thomas Jefferson, John Adams and the rest of the founders came later, but they realized the importance of free men and free enterprise.
You can demean some of them because they owned slaves, but don't allow yourself to doubt the Constitution they wrote. It gave generations to come ways to improve the document itself. That's been done and is being done.
The first time I visited Florida, in 1973, the population was still divided along racial lines even though there were laws against segregation.
The last time I went to Florida, last year, that division was gone. Blacks and whites were working, playing and eating together.
What I like especially about this country is the freedom its gives me to do whatever I want. Every day, when I drive down LaPierre Road to the freeway to Sunnyside, I remind myself how fortunate I am.
I started my work career as a 6-year old shaking vines so my older sister could pick potatoes. A couple of years later, I joined her.
I was also an asparagus cutter, and the only futures I cared about were the end of the row and the end of the field.
After serving in the U.S. Air Force from 1965-1969, I started to attend college to prepare for a career in agriculture. Then one day this career fell into my lap.
I've met a lot of people through the years doing my work. Some were very important in politics or commerce. Some were important in other ways.
I don't remember the names of these two gentlemen, but they reminded of the greatness of the Constitution and the country.
One had just arrived from Mexico. He stopped at my office in Toppenish, hoping I could help him find his bearings, and I did. I also asked what was the first thing he liked about the USA.
"I can go anywhere I want, to New York and back, and nobody will stop me to ask where I'm going," he said.
The other man ran an orphanage in Honduras. He also came by the office while on a fund-raising tour of the Yakima Valley.
"Americans have no idea what poverty is," he said. "They think it's a house, a car, a TV and a computer. In Honduras kids wake up wondering if they're going to eat today.
Tomorrow, when you sit down to your meal and you can't think of what you are thankful for, try the USA. I'm sure you won't be alone.
— Ted Escobar is the managing editor of The Daily Sun. Email him at tescobar@dailysunnews.com.