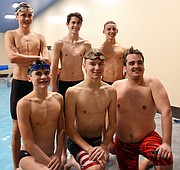 PROSSER — The Mustangs have a new head coach and three newcomers to the swim team this season.
Coach Leonard Wright is coaching six swimmers this year, a group of boys he believes are embracing the challenges ahead of them.
In a pre-season meeting, he told the athletes interested in representing the High School they would be expected to take their training and practices seriously, "... just like any other sport."
The goals he's set include getting each of the swimmers qualified for the District meet, regardless of their experience.
"I think there could be a relay at State," Wright said during Tuesday's practice with Grandview's six swimmers at Prosser Family Fitness Zone.
The team consists of returning Mustangs Austin Bierle-Miller, Paden Rude and Christian Malave.
Bierle-Miller competes in the butterfly, Rude is a freestyle swimmer and Malave's specialty is the breaststroke.
New to the team is James Ashton, Ryan Winder and freshman competitor Coleman Wright.
Wright is an experienced swimmer whom the coach will be counting on in the individual medley and 500-yard freestyle events.
Ashton, coach Wright said, will be competing in the backstroke and freestyle events, while Winder will be a sprint freestyle competitor.
"I think some teams graduated quite a few kids and we might be able to sneak in a relay," Wright said.
He said a couple of the individuals may represent the Mustangs at the 2A State Championships in Federal Way next February.
"The team is small and we have three new swimmers," Wright said. "Although some have previous experience, it will be a change for them to compete in high school swimming."
He believes they can overcome any challenges because they are working hard, buying into the program.