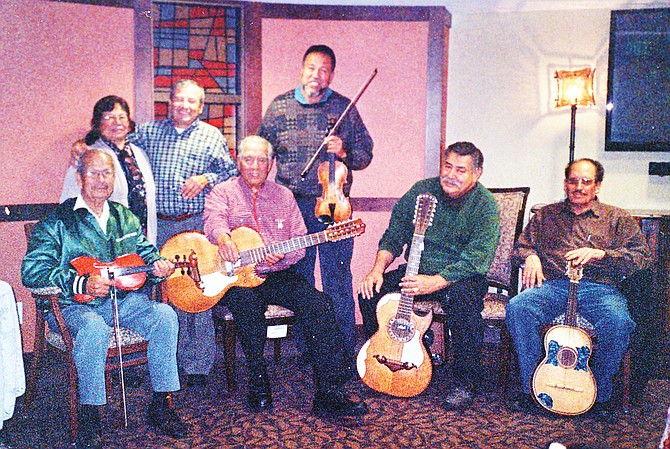 SUNNYSIDE — The Old Time Fiddlers, who perform weekly at Prestige Care and Rehabilitation Center, 721 Otis Ave., will do their final show of the season at 6 p.m. Monday.
The Old Time Fiddlers came together in 1980 under the direction Mabton violinist Trinidad Marquez.

The main goal of the group then — and now — has been to bring the joy of music to the elderly.
Marquez died about a decade ago at the age of 97.
One of the original members, Fernando Farias of Sunnyside now heads the group.
"We all miss Trinidad," he said. "But we have a very good violinist now in Victor Campos."
Campos, of Sunnyside, is the third original member with the group.
He's about 80 years old, Farias said.
Farias, 92, is a veteran of World War II, serving in the U.S. Army in The Philippines.
Farias plays the bajo sexto, a bass-sounding 12-string guitar popular in Mexico.
New members of the group are singers David Loyola and his wife.
Farias couldn't recall the wife's first name.
Other new members are David Lepez of Sunnyside on the bivuela (a small 6-string guitar," Reymundo Rivas of Sunnyside on the guitar, Rafael Mendoza of Granger on the harp and Heriberto Mendoza of Granger on the electric bass.
The Old Time Fiddlers have been playing so long (38 years) that they no longer practice as a group.
They just show up at Prestige, take out their instruments and go to playing.
Farias said the group primarily plays Christian music with a Spanish sound even though much of the audience is not Hispanic.
"The Americanos know the English words to our songs, so it works out fine," he said.