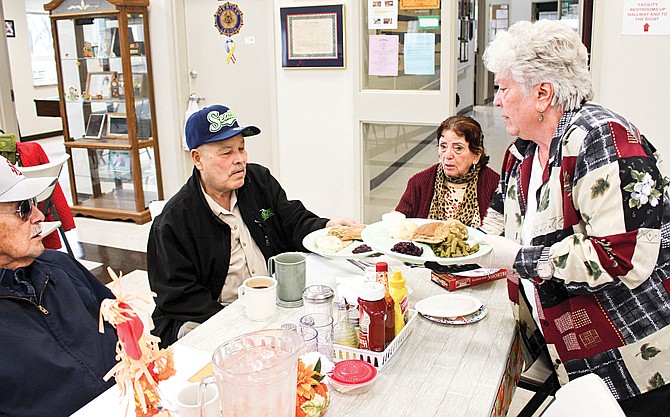 GRANDVIEW — Settling in for an hour of socializing and playing silly games is a normal part of most People for People Meals on Wheels lunches at the senior center, at 812 Wallace Way.
Making the meal special on the day before Thanksgiving takes a little doing, volunteer Kathy Zook said at Wednesday's annual pre-party and lunch.
For these events, there are always more door prizes and games, Zook said.
Zook collected prizes in the trivia contest and for having a birthday closest to Christmas.
Her husband Richard won a toy bear.
After retiring as People for People bus driver, Zook missed her friends and started visiting the Senior Center for an occasional lunch.
"These people are my friends," she said. "Now she and her friend Wanda Brewer, not only come to eat, but to help decorate tables for special events and serve meals, as needed.
"We're friends who give each other a bad time, but its all-in fun," Brewer said.
The sentiment was echoed by Manuel Garcia, who said he is grateful for the good food and the opportunity to socialize with his peers.
"I like being with all my brothers and sisters," the Grandview man said.
Eva Benítez Flores of Mabton, who planned to share Thanksgiving with some friends, said she also enjoys the conservations.
"It's nice to come here and talk with others," she said.
About 30 people turned out for turkey dinner with all the fixings, including pumpkin pie with whipped cream.
For many, Wednesday's meal may be the only chance they have to be with others for the holiday, said Martha Patina of Grandview.
She attends the meals with her husband and son.
The meals are served four times a week at 11:30 a.m.
"Everyone makes each of us feel welcome," Patina said. "We all genuinely care about each other.
"The others always notice if you miss a meal or two."