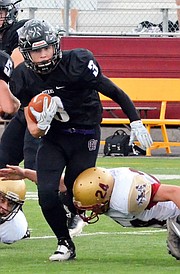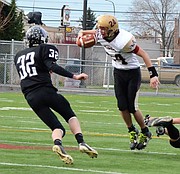 PASCO — Edgar Brown Stadium is quiet today, but it will be filled with fans cheering on two teams competing for a chance at the 1B State football championship tomorrow.
Sunnyside Christian and Odessa, formerly Odessa-Harrington, will be on the gridiron in tomorrow's 4 p.m. State semi-final game tomorrow.
The teams met up in a similar scenario last year, and Odessa-Harrington prevailed, 42-40.
The Knights, however, claimed their first State football trophy, ending the season in third place.
The teams are slightly different this season.
The Knights played last year's game with some key players sitting on the sideline due to injury.
Joining the injured players at halftime was Lane Marsh, who suffered a concussion after scoring a touchdown.
Last year's quarterback for the Knights — Justin Faber — wasn't able to play his normal position due to an ankle injury, but he came off the bench for the second half. He filled in as a receiver, while Chance Marsh continued to serve in the quarterback position.
This season, the Knights enter the semi-finals healthy and strong.
They have been training for endurance and taken to spending time in the weight room, coach Jeremy Thomas said.
The past couple of weeks, they added basketball practice to their regime. That, coaches hope, will help them to outlast the Tigers in tomorrow's re-match.
The Knights are 12-0 entering the game, while the Tigers are 11-0.
Both teams are accustomed to taking early first-quarter leads.
Odessa's strength is its rushing game, averaging more than 300 yards per game.
The leading running back is Gaven Elder, a senior, with more than 100 yards average.
Kyler Marsh of the Knights averages more than 121 yards per game on the running plays, but the team's strength is its passing game with nearly 240 yards.
Odessa's average passing yards is 152.
Defensively, the Tigers will be counting on Tim DeWulf, and the Knights will be looking to Eric Villalobos for the big plays.