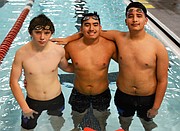 YAKIMA — The Zillah Leopards swim team is working hard for coach Jake Kessler, who also coaches West Valley (Yakima) and Naches.
Because there are few 1A swim teams, the Leopards and Rangers will compete at Columbia Basin Big 9 meets and will be scored against one another.
Kessler has three Leopards, only one of whom has been on the team for the past few years — junior Kobe Nishi.
The coach anticipates Nishi's role as a leader will help the less experienced freshman Trevor Emery and junior Fernando Godoy.
All three will be competing in freestyle events, Kessler said.
"Kobe has competed in butterfly before," he said.
The other two are going to be learning. "The challenge for both is getting comfortable in the water and learning how to breathe," Kessler said.
His hope is Emery and Godoy will learn new strokes as they gain confidence, particularly in breathing.
The coach is confident Nishi will compete in the 2A District swim meet.
"Depending on what he wants to do, Trevor can compete in the 2A meet or he can compete in the disabled events in the 4A meet," Kessler said, noting Emery has palsy in one arm and has the potential to swim the 50-yard freestyle and backstroke events at the State Swimming Championships at the 4A level.
"This isn't an easy sport," Kessler said, providing back-up via questioning Rams swimmer Jack Johnson about the difference between swimming and football.
Johnson said, "It's not as intense, but there's more endurance required."
The Zillah boys impress Kessler as much as the boys on the larger Rams team.
"Boys are competitive," he said. "They think, 'If he's doing that, so will I'."