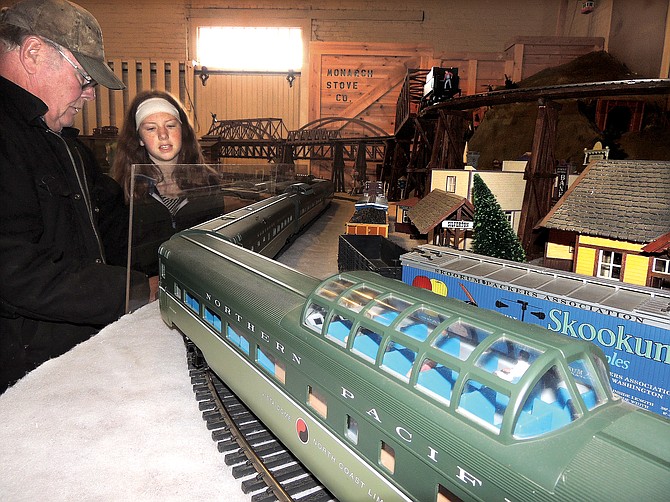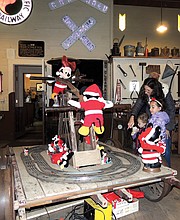 TOPPENISH — Railroad enthusiasts and model and toy train fans rarely get their fill of either, but the Northern Pacific Railroad Museum here could satisfy a lot of that hunger.
This is the time of year when the museum beefs up exhibits. It brings in toy or model trains owned by members and friends of the museum.
Saturday was the first day of the 14th annual Toy Train Christmas. If offers visitors hours, if not full day of all things railroad.
Toy Train Christmas will continue every Saturday and Sunday through Dec. 16 There were 350 visitors Saturday. There will be as many as 700 as Christmas approaches.
"The closer we get to Christmas, the wilder it gets," museum co-founder Jerry Boekholder said.
Toy Train Christmas goes from 10 a.m. to 4 p.m. daily.
Guests are greeted by museum members and Toppenish High School volunteers.
Toy Train Christmas offers a real train ride to the North Pole on the Christmas Train. Entire families, including grandma and grandpa make the trip.
There are more than 40 operating toy trains of all sizes on the first and second floors.
There is hot chocolate and cookies, and there is a gift shop with railroad-related Christmas gifts.
"It's our biggest fund-raiser of the year," Boekholder said.
The museum is the old Toppenish depot of the Northern Pacific. It was built by the Northern Pacific Railway in 1911. 
For 50 years, it served as the transportation center of the community. Passenger service from Toppenish was discontinued in 1961.
There was no purpose for the building, and that nageed at many townspeople.
In 1989 a group of railroad fans approached the city and the railroad about a railroad museum.  The Yakima Valley Rail and Steam Museum Association was formed to accomplish this goal. 
The museum had its grand opening on July 4, 1992.  The depot and adjacent freight house were purchased from the Burlington Northern Railroad the next year.
The museum division was renamed the Northern Pacific Railway Museum in 2000.
The Association maintains the museum with volunteer work only. Everything you see in the rail yard is part of the museum.
A real railroad fan could spend a day or more there.
The museum is on its own. Burlington Northern hasn't lent much of hand.
"We just got an observation car out of main," Boekholder. "It cost $40,000."
Bulington Northern transported it to Toppenish for $16,000, but Boekholder said Burlington Northern will reimburse the museum that amount.
"We get 3,000-3,500 visitors a (six-month) season. So, we don't make a lot of money," Boekholer said. "This Christmas event, really helps. We'll pick up $35,000, maybe.
Thankfully, we have all those volunteers."