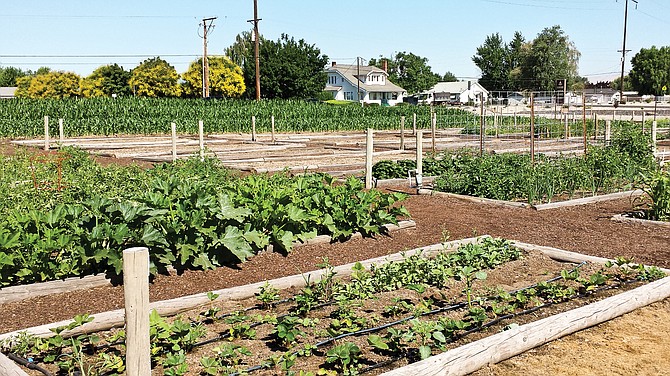 It was with a heavy heart that Sunnyside Community Gardens spokesperson Mary Werkhoven started talking about the possibility of closing the community service project at the end of the current growing season.
"Due to circumstances beyond our control, this past season was the last season for the garden, she said in an open letter to the community.
This past growing season, the garden enthusiasts rented just eight plots of the 44 available on the North 16th Street acre.
"We love the gardening project," Werkhoven said.
"We just aren't getting the support we had hoped for," she said.
Werkhoven, said the decision to close the garden was tough to make for the Community Garden Team: Jim Jansen, Henry Van Oostrum, Stan and Kathy Bos, Leticia and Abby Bravo, Elizabeth Gates and Werkhoven.
"We loved our dream of providing ground where people could provide fresh vegetables for their families, she said.
The group also supported strawberries and raspberry patches.
"We had a u-pick corn patch too," she said.
Hours were invested in preparing the ground, the donation of fertilizer, the installation of underground sprinklers systems.
"We even provided the water, people just rented the plots, grew the food they wanted, and agreed to upkeep," she said.
"Those who did were very happy with the results. But some couldn't keep up the pace," she said.
"Many of our renters were already working long hours, and the idea of leaving home to go work a few more hours in a garden plot away from their home, was too much," she said.
Werkhoven said the garden committee will still be "renting" 10' sections of raspberries next spring.
But the plots and U-Pick corn will be eliminated.
"Though we are sad about that, it is the right decision, she said.
"But we cannot go without thanking the community for all the support and encouragement they gave us," Werkhoven said.
She said the community came together for the garden project, which was never a church project.
"We were about giving people ownership for providing fresh produce for their families," she said.
It truly takes a community as supportive as Sunnyside to provide and care for each other.
"Our Garden Committee thanks you for stepping out to give others a hand up! We were so blessed by all of you who stepped up to help — coming to ask what we needed before we could even ask," she said.