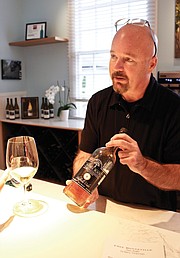 SUNNYSIDE — The weather was fabulous for a weekend in wine country, and, according to local winery spokesmen, Friday was busy.
"Well, at least steady," Jay Compeau of Cote Bonneville said.
But Saturday, which is typically much busier, seem ed slower than usual for the annual event. Even Sunday, which typically sees visitors return for one more sampling before heading home, was slow.
The train station tasting room on East Edison Avenue was one of more than 50 Yakima Valley wineries open for Thanksgiving in Wine County.
Trent Ball of The Yakima Valley College Vintner Teaching winery tasting room in Grandview, said the weekend was different than past years.
"It was more like a typical weekend. We had visitors, but not the large groups like we are used too," he said.
Ball said the "locals" were out in support of the wineries on Friday, and, "…we love that."
But he said, "we saw fewer tourists."
"Maybe our visitors were off in search of a television to watch the UW-WSU Apple Cup," Ball said.
At the college tasting room, visitors were treated to samples of the award-winning students' wines.
"These are real resume builders for our students, Ball said.
The next big weekend in wine country will be the Red Wine and Chocolate in February.