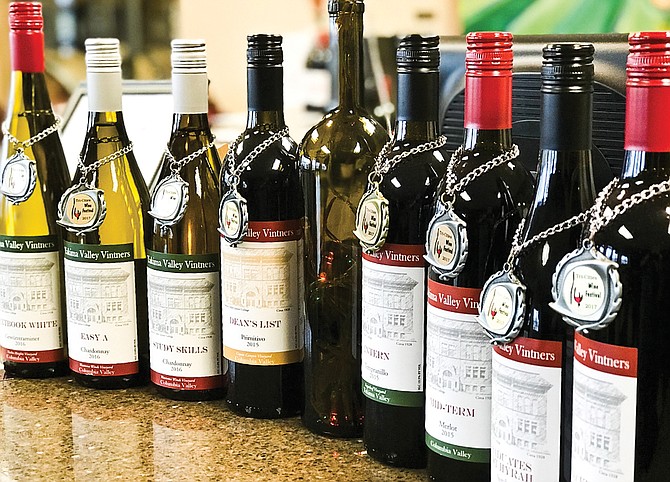 GRANDVIEW — Yakima Valley Vintners, Yakima Valley College's teaching winery, received eight awards for its student-crafted wines at the 2017 Tri-Cities Wine Festival this month.
The top medal, the gold, went to the YVV's 2015 Intern Tempranillo.
The 2015 Primitivo, 2015 Mid-Term Merlot, 2015 Red Backpack Blend, 2015 Graduates Last Hyrah Syrah, 2016 Easy A Chardonnay (oaked), 2016 Study Skills Chardonnay, 2016 Textbook White Gewurztraminer each garnered silver medals.
All wines submitted were judged blindly by a panel of prominent wine professionals.
YVC student wines are included with all the other commercial wineries during the competition.
There were more than 70 wineries that competed this year, and 373 wines were judged over a three-day period leading up to the festival on Saturday.
These award-winning wines, submitted by Yakima Valley Vintners, were produced by students completing course work in YVC's Vineyard and Winery Technology program. The wines are marketed through the program at YVC's Grandview Campus which houses a winery facility and tasting room.
Students managed all aspects of producing these wines from grape to glass.
"The students are the decision makers on the wine style and blending methods. These awards affirm their commitment and dedication to their craft," stated YVC Vineyard and Winery Technology Instructor Trent Ball.
The Tri-Cities Wine Festival began in 1979 as a fundraiser for a new copier for the Tri-Cities Visitor & Convention Bureau. However, it was also envisioned as a vehicle for promoting Northwest wines, and the Tri-Cities as a tourist destination. The festival was modeled after the Seattle Wine Festival and was originally held in July during Water Follies. The event featured over 40 wines from 13 Northwest wineries. In 1990 the Tri-Cities Wine Society assumed sponsorship. Through the help of several area supporters, the Society received enough seed money to continue the festival.
The festival has continued each year, and as the Pacific Northwest wine industry has grown and changed, so has the festival. In 2010 Tri-Cities Wine Festival moved to its current location at Three Rivers Convention Center in Kennewick.
More than 70 wineries attend this annual event and more than 370 wines are poured to 1,200 visitors at the Gala Wine Tasting. A Silent Auction helps fund a scholarship to students in local viticulture programs.
For more information about Yakima Valley Vintners and the Yakima Valley College Vineyard and Winery Technology Program: www.yvcc.edu/wine or call 509.882.7007.