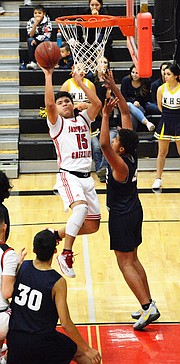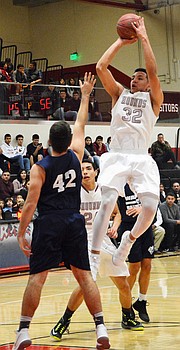 SUNNYSIDE — Coaches for the Grizzlies, Grandview Greyhounds and Wapato Wolves were able to see how well their teams will fare in competition at last night's Sunnyside Boys Basketball Jamboree.
The Greyhounds and Wolves opened the mini games. Grandview prevailed, 38-31.
Sunnyside took on the Wolves in the second game and won, 38-29.
The third game pitted the Grizzlies against the Greyhounds. The teams ended the game in a 34-34 tie.
"I saw a lot of good things," Grizzlies first-year coach Bruce Siebol said.
"It was good competition for our kids," he said.
Greyhounds coach Frankie Medina said he was also happy with how well his varsity players performed.
Against Sunnyside, Gabe Esqueda led the Greyhounds with 14 points and Mark Martinez was heavy on the boards.
Siebol said the Grizzlies varsity had more turnovers than he would like to see.
"We ran the offense really well and played solid defense," he said.
Of the seven Grizzlies on the floor, Siebol said six of them scored.
"It was spread out," he said. "It was good team basketball — everyone did their part."
Medina said the Greyhounds defense looked good against the Wolves, making the opponent settle for outside shots.
"We had good looks at the basket," he said of the offense.
Against the Grizzlies, he said the Greyhounds started strong with an early lead.
"We had some bad rotations," Medina said of losing the lead.
"Sunnyside had some good lay-ins and at times our team looked lost," he said.
When asked how the Greyhounds fared from the charity stripe, Medina said free throws are a part of the game his team is focused on improving.
The varsity was 3-for-5 from the free throw line against the Grizzlies. The combined A and B squads were 4-for-9.
Both the Grizzlies and Greyhounds travel tomorrow for their first regulation games of the season.