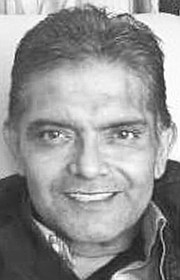 Jose "Joe" Zamora, 51 passed away Nov. 26, 2017, at Kadlec Regional Medical Center after a two-year battle with esophageal cancer.
Joe was born Oct. 31, 1966, in Prosser to Gabriel and Lucy Zamora and was a lifelong resident of Mabton.
He graduated with the class of 1985 from Mabton High School, where he met Lenore, whom he married on May 29, 1993, in Granger.
Joe was a hard-working man with many skills and talents. He made a good living by managing many different warehouse companies throughout his career, but Joe always knew the importance of education and went back to school to earn his Associate of Arts degree from Yakima Valley Community College and later continued his education at Heritage University.
Throughout his life Joe's pride and joy were his three children: Anika Zamora (Ramon Soto), Kyle Zamora, and Alejandro Jose Zamora (Vanessa DeLaCruz).
Joe loved spending time with his family, especially his two grandsons, Bryan and Noah. His favorite times with Bryan included taking him to school and buying him that extra "McGriddle."
Papa Joe's greatest memories with Noah were the road trips to Oregon and California, and he always enjoyed sharing a yellow popsicle when they were together. Joe had a close and irreplaceable bond with each of his siblings and was known as the most "travieso."
Joe lived life to the fullest until his final minute. His favorite past times included dancing and listening to oldies. He loved all outdoor activities and joking around, but, most importantly, he loved making people smile, which is how he will always be remembered. Joe leaves us with many memories. He touched many people's lives and will always live in their hearts.
He is survived by two sisters, Blanca (David) Navarro and Elena (Juan) Martinez, and three brothers, Raul (Christy) Zamora, Gabriel (Misty) Zamora, and Gustavo "Gus" Zamora. Joe also had a special connection with each of his 15 nieces and nephews and those special people he considered family.
Joe was preceded in death by his father, Gabriel Zamora Sr. and brothers Rolando Zamora and Rogelio "Roy" Zamora.
His family would like to extend a special thank you to KCHO nurses whom Joe admired and loved, 6 Floor Kadlec nurses, Lydia Mora, Ramon Soto, Romie Swails, Dede Gonzalez, Robert and Molly Buchholz, Wendel and Charlotte Welds, and Bear and Brenda.
Viewing and visitation will be held from 2-6 p.m. Sunday, Dec. 3, 2017, at Smith Funeral Home in Sunnyside. Funeral service will be Monday, Dec. 4, 2017, at 1 p.m. at the Smith Funeral Home Chapel in Sunnyside.
Those wishing to sign Jose's online memorial book may do so at www.funeralhomesmith.com.
Smith Funeral Homes in care of arrangements.
More like this story