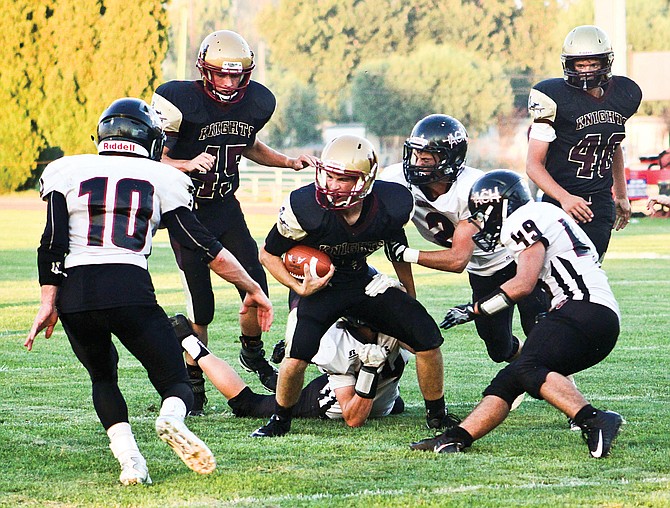 TACOMA — The Sunnyside Christian Knights and Almira-Coulee-Hartline Warriors are gearing up for tomorrow's 1B State football title match-up in the Tacoma Dome.
The 4 p.m. game is the Knights' first appearance in the championship game.
It is the fifth title match for the Warriors, who won their third championship in 2015.
The two teams aren't unfamiliar with one another, having opened the season Aug. 31 in a last minute match-up on the Granger gridiron.
The Knights won that game with their lowest score of the season, 34-20.
Both teams are known to score early and often. Sunnyside Christian averages 25.7 points in the first quarter, while Almira-Coulee-Hartline has racked up an average of 27.7 points.
The Knights have averaged another 22.7 points in the second stanza, while the Warriors average 15.5.
The Knights have a triple threat in running back Kyler Marsh, and receivers Luke Wagenaar and Lane Marsh. Kyler Marsh averages 110.7 rushing yards per game, while quarterback Chance Marsh looks to his receivers for an average of 257.7 passing yards.
The Warriors' leader on the rush is quarterback Maguire Isaak, who averages 90.2 yards on the run. His passing average is 137.9.
The Knights' offensive line will be looking at keeping Payton Nielson away from Chance Marsh. Nielson has averaged .8 sacks per game, while Cade Bosma of Sunnyside Christian's defense averages .1.
"It's going to be the same thing as the game against Odessa," Knights coach Jeremy Thomas said after last Saturday's semi-final win.
He said Sunnyside Christian needed to prepare hard for the rushing game and the offense would need to be on the lookout for players keying in on specific play makers.
"It will take all eight of our players working together to win," Thomas said.
Both teams have faced tough opponents like Lummi. The Knights defeated the Blackhawks, 84-6, in Week 5. The Warriors defeated the same team last week, 60-6.
The Knights average 62.7 points per game, while the Warriors average has been 54.3. Garfield-Palouse scored the most points — 42— against the Knights. Odessa had the highest score — 54 points — against the Warriors.