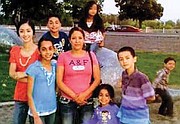 GRANGER — There are eight brothers and sisters without a mother or father in this community.
They live with an aunt near Randy and Sharon Duford, owners of Cherry Hill Golf Course and Doc's Pizza.
The Dufords organize a tournament late in the year known as The Fall Classic as a charity event. This year the beneficiary will be the eight children of Maria Gonzalez-Castillo and Jaime Munguia Alejandre.
The one-day tournament will be played Saturday. Sharon Duford urges all big-hearted golfers to come out.
Gonzalez-Castillo was murdered brutally during the night of June 1-2, according to investigating authorities. The killer dismembered her body, then burned the remains in a fire pit.
Jaime Mungia Alejandre was arrested as the alleged killer and sits in Yakima County Jail awaiting trial or a plea bargain of some type.
Yakima County Sheriff's deputies were called to home when the children were looking for Gonzalez-Castillo and couldn't find her.
"The children are staying with family, but the need is ongoing support," Sharon Duford said.
You may help even if you're not a golfer. There will be an auction after the golf, and Sharon Duford said any donated item will be appreciated.
Meanwhile, the Patrolmen's Association in Sunnyside has set itself up to accept donations in support of the four children left behind after their parents were lost in a murder-suicide incident recently there.
A spokesman said people have been bringing clothing and blankets and other
children's needs.
Leticia Garcia, director of Lower Valley Crisis and Support Services suggests to those who want to help that gift cards is probably the best way to go.
"They know what they need and sizes of clothing they wear," she said.
The 2017 Fall Classic annual fundraiser tournament is set for Saturday.
The two-person scramble tees off at 10 a.m.; competitors need to check in at 9 a.m.
The event includes 18 holes of golf, lunch and prizes.
If you'd like to know how you may help with the tournament, call Sharon Duford at 509-854-1800.