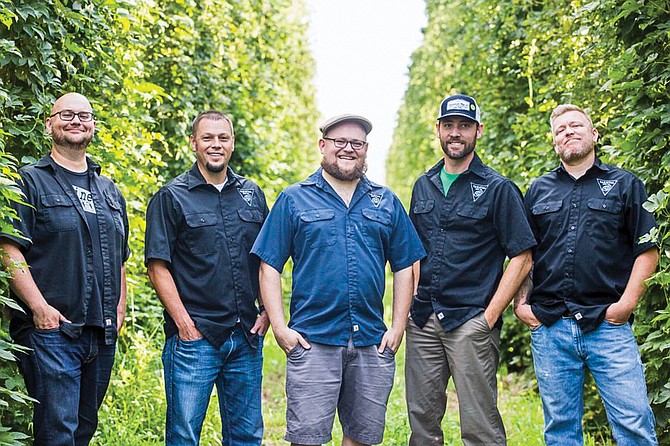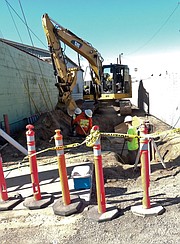 You probably won't remember the old farm feed store at 5th and Edison after the work to convert it to a micro-brewery is done.
It appears construction workers are putting up a whole new building at 416 E. Edison. The inside has been gutted and a double-slab concrete floor has been removed.
"There will be no visible support posts," said Chad Roberts, co-owner of the company that will be using it first. "It's going to have some type of corrugated metal siding."
The property is owned by the Port of Sunnyside. It is investing $1.2 million in remodeling. It will be an incubator building, where new enterprises can get a start.
Once Varietal Beer Co. has sound footing, it will move on to a permanent site, most likely on port property. Then a new start-up will be able to use the incubator.
The Varietal Beer project is only part of the good news coming from the port. Ostrum's, the giant mushroom company expects to start construction in December or January.
Port Manager Jay Hester said, the project is at the industrial development bond stage. Ostrum's and the port will be looking for $34 million on the bond market.
The Ostrum's project will take up 45 acres of ground south of Darigold on Midvale Road.
It will be a 24-hour, planting-to-marketing operation that is projected to produce 200 jobs.
Varietal Beer won't add that many jobs to the Sunnyside economy. Two or three of the partners will work there,
"We'll be hiring servers and bartenders, and we'll add jobs as we grow.
The building's dimensions are about 40X120 feet for a total space of 5,000 square feet.
Roberts said the brewery will take up the back half of the building. The front half will be the tap room for customers.
"We'll have a beer garden in the gravel parking area on the west side of the building," he said.
There is a lot work yet to be done.
Brad and his partners — Chris Baum, John Cope, David Paulson, Karl Van Evenhoven — hope to open in late April Early May. They'd like to be serving beer on Spring Barrell Weekend, when there is an influx of wine tasters.
The four partners have either brewed or worked in the beer industry.
Roberts and head brewer Baum brewed beer for Snipes Mountain Brewery.
Baum works for Bale Breaker Brewery in Moxee now.
Roberts, Van Evenhoven and Paulson are involved in the hop industry, working desk-type jobs for Yakima Chief-Hop Union.
Roberts is in production planning, Van Evenhoven is senior vice president of operations, and Paulson works in stragey.
Roberts doesn't know how many varieties they will make but, eventually, it will be numerous.
"One year at Snipes Mountain we made 40 varieties," he said.
"There will be a lot of hoppy ones," he added, meaning you will be able to taste and discern the variety. "There are beers you can't taste the hops."
Roberts said he and his partners are not dreaming of a giant brewery — they really want to just build a successful small business serving the local beer market at the tap room.
"We're going to have deliveries, too," Roberts said.
Delivery of kegs, he meant. They won't bottle, so there won't be any labels.