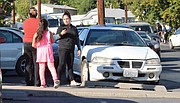 SUNNYSIDE — Police searching for an alleged gunman shut down a major arterial yesterday afternoon, forcing some school buses to return to school and motorists to find alternative routes home.
The Carnation District was swarming with police at about 3:08 p.m. and South First Street was closed from South Hill Road to East Lincoln Avenue.
Residents living in the area were stymied, not knowing why they couldn't go home, including students returning home on buses.
"It was an armed encounter," police Cmdr. Scott Bailey said after the scene was cleared.
Bailey said the response followed a report of a man waving a gun in front of a residence.
Area resident Miguel Prieto said he was told he couldn't return to his West Lincoln Avenue home.
"They didn't say why," he said. "They should be knocking on doors."
Prieto and others parked their vehicles at the nearby Agitation Station and north of East Lincoln Avenue on South First Street.
They gathered in frustration and said they didn't understand what was going on.
Grandview resident Felicia Chavez was among them — her grandmother lives in the area and watches her young girls.
"My oldest couldn't get off the bus," she said before attempting to call the School District bus garage.
Three buses returned to Pioneer Elementary School before the area was reopened just after 4 p.m.
Pioneer Assistant Principal Estevan Florian said parents were called and many arrived at the school to pick up their
children.
Once the all-clear was given, he expected the buses to drop off children who hadn't been picked up.
High school student Dareli Cardenas lives at the corner of Parkland Drive and was walking home before being redirected to stand outside the closed area.
"I had to call my Mom who is at home," she said. "She's going to try to leave the house and pick me up."
Police at the scene directed several people out of the area.
"There's a man with a gun in the area," Bailey said as the search was conducted. "We want everyone to stay safe."
He didn't say if residents were being evacuated from their homes or told to stay in their houses.
The home was one with which police have had prior dealings.
"There was past gang activity," Bailey said.
As a result, police coordinated efforts and diverted traffic, Bailey said.
A police sergeant gained access to the home and negotiated with those living there.
"Unbeknownst to us, the home was the victim's residence," he said.
The people in the home "… weren't completely cooperative," he added.
The residents finally exited the home and spoke with police, but provided a vague description of the suspect:
"A Hispanic male about 6 feet or 6 feet, 1 inches, wearing blue clothing," Bailey said.
After lengthy conversations with the occupants, police learned the alleged suspect fled the area prior to police arrival, Bailey said.
Police recovered a magazine and ammunition at the home, and are seeking information regarding the suspect's whereabouts.
Anyone with information can call 509-836-6200.