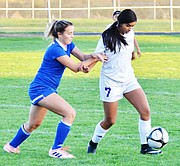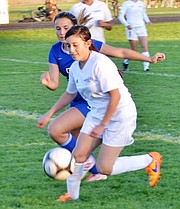 MABTON — The Kiona-Benton Bears were beasts on the pitch last night.
The Vikings struggled against the Bears' attack, defending their own goal throughout most of the match.
In the first half, Mabton keeper Britney Guerrero had at least 6 saves as Kiona-Benton attacked the goal frequently.
The Bears won, 10-0.
Statistics weren't available as of press time.
Granger 0, Highland 2
The Scotties blanked the visiting Spartans last night thanks to two goals scored by Jackie Naranjo.
She got the ball past Granger keeper Jasmin Rodriguez in the 35th minute and the second made it between the crossbars in the 68th.
Rodriguez had 5 saves, while her teammates made 3 scoring attempts.
Each of the Spartans shots was shut out by Carolina Arceo of the Scotties.
"The team was struggling defensively," assistant coach Karla Rojas said.
"The kept fighting for it and that's what I was proud of," she said.