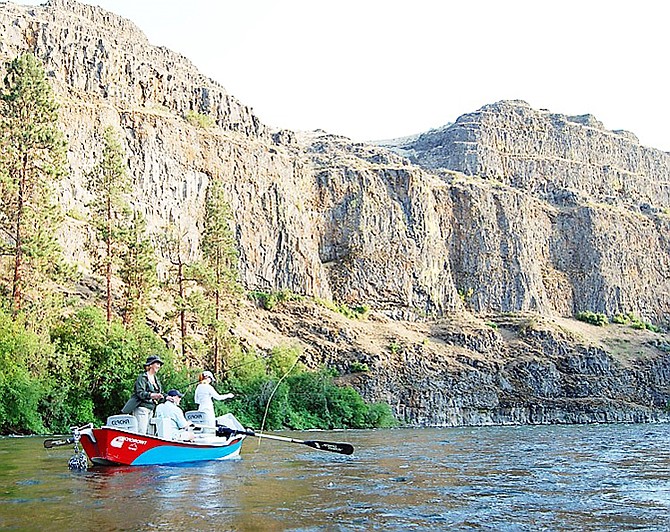 PROSSER — Anglers in the Yakima Valley need not look far for some of the best fishing in the state.
The latest fish counts provided by Yakima Klickitat Fisheries Project show promising numbers of a variety of salmon near the Prosser Dam.
Those throwing their hooks in the water for Chinook and Steelhead have the best chances. Sunday tthrough Wednesday, the Chinook count was 80 and there were 10 Jack Chinook passing through the dam.
The Steelhead count was 86, and the Coho count was 67.
That's compared to no Chinook or Steelhead counts recorded at the Roza and 1 Jack Chinook.
The counts at Priest Rapids are also looking good.
This week, the U.S. Army Corps of Engineers reported 1,476 Chinook, 109 Jack Chinook, 229 Steelhead, 1,169 Coho and 77 Jack Coho in the count.
The Washington Department of Fish and Wildlife has staff at various checkpoints throughout the region known as fish checkers measuring salmon brought ashore. They are keeping tabs on the condition of the salmon and fisheries.
The long section of Columbia between McNary and John Day dams is sometimes referred to as the John Day Pool or Lake Umatilla. In this part of south-central Washington, the river is an oasis of life.
The upper reaches of the John Day Pool itself – the stretch of river extending upstream from Crow Butte Park to McNary Dam – has one of our state's best and most diverse fisheries, officials said.
All hooks used for salmon fishing must be barbless regardless of where one chooses to drop their line, officials said.
For fishing updates and regulations, visit wdfw.wa.gov/fishing/.