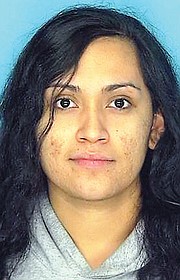 SUNNYSIDE — A local woman wanted by police in connection with a stabbing was apprehended last week.
Lourdes Gutierrez, 24, was booked initially into the city jail last Thursday before being transferred to the Yakima County Jail. She is being held on charges of assault and robbery.
According to police, Lourdes was involved in a domestic incident about 4 a.m. Aug. 31 at 410 W. South Hill Road.
Police were called to the home where they found Ricardo Rodriguez, 27, had been stabbed twice, police said. The knife wounds were not life-threatening.
Rodriguez was transported to Sunnyside Community Hospital via ambulance, where he was treated and released.
Gutierrez wasn't the only one booked into the city jail since last week.
Police also booked:
Hannah Joy Baird, 41, of 2350 Yakima Valley Highway, Wapato, on a hold for Toppenish police.
Jose Martinez Jr., 43, of 258 Albro Road, Sunnyside, for second-degree driving with a suspended license and driving while under the influence.
Cynthia Sue Fernandez, 46, of 305 S. 11th St., Sunnyside, for disorderly conduct, use of drug paraphernalia and second-degree criminal trespass.
Eulalio Mendoza Hernandez, 30, of 1517 Gregory Ave., Sunnyside, for driving while under the influence, hit-and-run attended, and driving with no valid operators license without ID.
Kristin Ann Catron, 32, of 3412 Barge St., Yakima, use of drug paraphernalia, disorderly conduct, first-degree criminal trespass and two counts of third-degree theft-under $750.
As of Monday morning, the city jail housed a total of 45 inmates.