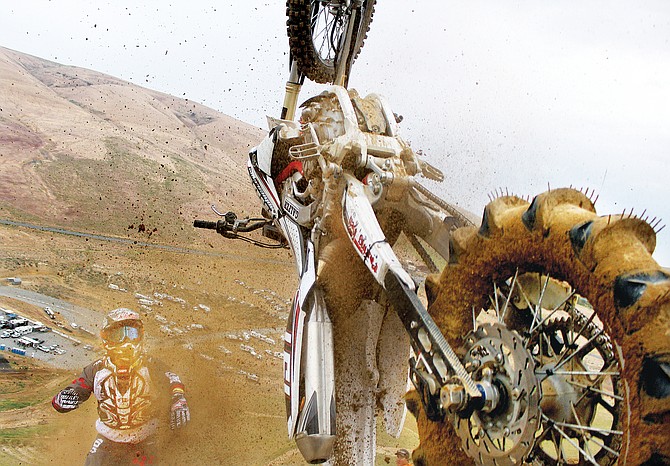 SUNNYSIDE — The publisher of The Daily Sun was presented one of the nation's top newspaper photography awards Friday in abstentia.
Roger Harnack, 50, of Sunnyside, received the National Newspaper Association's third-place award for Best Sports Photo-Daily Division in the mail Tuesday.
The award, unveiled during the National Newspaper Association conference last week in Tulsa, Okla., covers all daily newspapers in the U.S. with photo entries published in 2016.
The award-winning photo published May 16, 2016, captured Albany, Ore., racer Jenny Bakles' crash high above state Highway 24 during the Northwest Nitro Nationals. Shot with a wide-angle, 28mm lens, the image shows the upsidedown motorcycle nearly striking the camera lens as the racer falls backwards down the mountainside.
More awards are on the horizon for The Daily Sun.
This week, the Lower Yakima Valley newspaper's staff will bring home several more awards from the Washington Newspaper Publishers Association's gala Friday night in Olympia.
The gala begins with a 5:30 p.m. reception, followed by dinner and then awards presentations during the 130th annual state newspaper convention at Red Lion Hotel, 2300 Evergreen Park Drive S.W., Olympia.
Current graphic artists Ileana Martinez, Elaine Schneider and Job Wise; classified advertising sales specialist Karen Zackula; reporters Julia Hart and Jennie McGhan; and Harnack are among the winners in the state-level 2017 Better Newspaper Contest. Former sports reporter Manny Dimas and former managing editor John Fannin will also receive awards, as will contributing political cartoonist Brad Skiff.
The state contest is for reporting, photography, graphic arts and design published between April 1, 2016 and March 31, 2017.