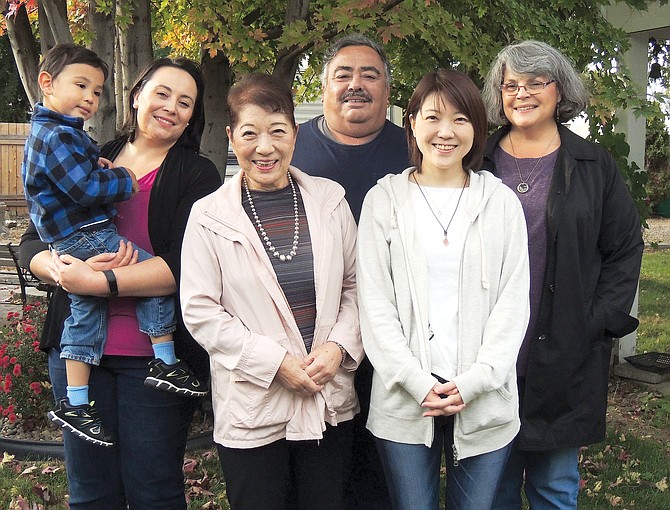 SUNNYSIDE — From her back yard, Vicki Escobar heard a piano, which she'd never hear before, at a neighbor's house.
Reiko Tsukamoto, a foreign exchange student from Japan the Escobars were hosting, was playing at the home of Eleanor Becker.
"Eleanor said, 'That piano hasn't sounded that good in years,'" Vicki recalled.
That moment was one of the joys David and Vicki experienced in 1994-95, when their family hosted Reiko. Monday evening she returned to Sunnyside to visit the Escobars.
She also visited a woman in Arizona who hosted her during the orientation for the foreign exchange experience.
Reiko, 39 now, is a member of two orchestras in Japan. She plays viola.
"We do classical music, Beethoven, Bach," she said. "We do some movie music."
The 100-member strong Japan Friendship Philharmonic is one of the top amateur orchestras in Tokyo. The Tokio Marine Nichido Co. Orchestra has 80 members.
Reiko works for Tokio Marine, an insurance company, as assistant manager in the underwriting department.
The Escobars, particularly daughters Nikki and Gwen, have kept in touch with Reiko through all of the modern communications devices.
"She's called every Christmas," Vicki said. "She knew of the deaths of grandma and grandpa Escobar and my mom and dad."
Reiko's mother came with her in 1994 and stayed a week. They traveled together again this week.
The mother, Yuko, was a Japanese Fan Dance teacher. Reiko was a dancer.
Mom and daughter had the same first impressions of America.
"The sky was great, wide," Yuko said.
"The wheat and corn fields were so big," Reiko said.
Reiko said the reason they noticed the sky was that they live in Tokyo. It's skyscrapers limit the view.
Everything seemed big to Reiko and Yuco that first week here together. At a supermarket, Yuko exclaimed, in Japanese: "Look at the bell peppers! They're so big!."
Turning to Vicki, she said, "All vegetables are bigger here."
Reiko was surprised back then that students changed classrooms for each subject. In Japan, the teachers went from room to room.
One of the fun experiences was the one-hour drive on which David took his family and Reiko to Vantage.
He took everybody on up to Stratford, where he once worked and then decided go on to Grand Coulee Dam on a supposed short cut.
It turned out to be a long cut because David became lost. They arrived at Grand Coulee several hours later, just in time for the light show.
"I didn't know what was going on," Reiko said with a laugh. "My English was not very good."
Yuko recalled the time David and the family took Reiko and her to Miner's In-N-Out in Yakima.
"I was surprised by how big the hamburgers were," she said. "I couldn't eat half of one."
Reiko and Yuko and the Escobars drove to Othello yesterday, where Reiko visited the classroom of Nicki Escobar, who is now an elementary teacher.
Of all the memories she made in Sunnyside, Reiko remembers her host family most fondly.
"It was kind of a hard time for me," she said. "I was away from home. The culture was really different."
"I was grateful for my host family," she said. "They taught me a lot of things. It made me grow up."