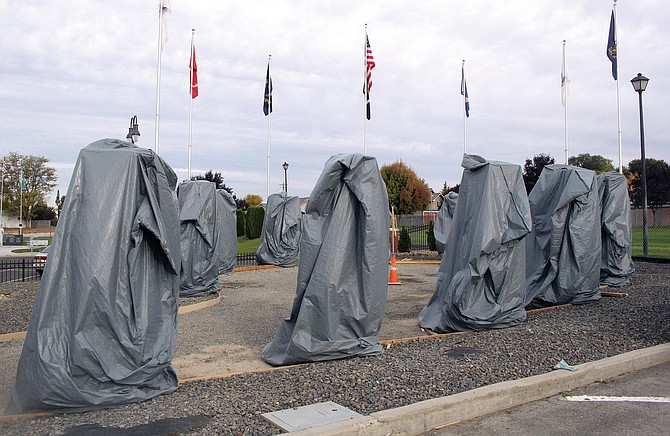 ZILLAH — A new veterans memorial will be unveiled publicly in the Lower Yakima Valley at 11 a.m. on Nov. 11.
Zillah Veterans Memorial coordinator Jerry Bradley yesterday told the Zillah Chamber of Commerce that the unveiling ceremony will be "very emotional."
The public event will take place at the site between the Zillah Civic Center, 119 First Ave., and the adjacent Teapot Dome park.
"The whole shooting match will kick this off," he said, noting the engraved memorials will be cordoned off until after the unveiling ceremony.
The unveiling at the 11th hour of the 11th day of the 11th month coincides with the anniversary of the pre-arranged end of World War I when the armistice was signed in 1918.
Originally called Armistice Day, it is now celebrated as Veterans Day across the U.S.
The unveiling opens up just the first phase of the project where residents and visitors can have veterans names engraved in memoriam.
"We have the capacity for a couple hundred names more," Bradley said. "The second phase will be as soon as possible."
Bradley took a moment to thank the chamber, city, area businesses and community for supporting the project.
"I can't tell you how much work has been put into this," he said.
Chamber President Pat Wise said the memorial is a site to behold.
Engraved memorial monuments are currently wrapped in plastic to protect them from the weather.
But gusty winds recently opened up some of the plastic, offering Wise a sneak peak.
"I got to see it," he said. "And they are pretty."