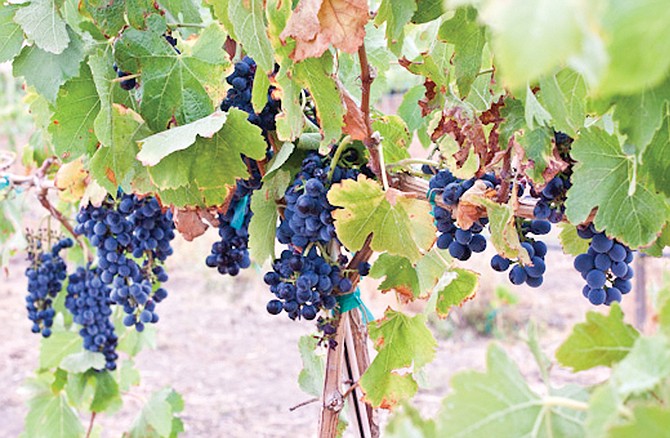 YAKIMA VALLEY — Get ready to squeeze grapes between your toes at any of the many grape stomping events being held at local wineries this weekend from Prosser to Union Gap.
Beginning Saturday, nearly 40 wineries in the region have invited guests to tour both the vineyards, and to enjoy harvest and crush activities, Wine Yakima Valley spokespersons Barbara Glover said.
Crush is a special time of year in Yakima Valley wine country. Harvest is over and production for the next vintage is beginning. It's an exciting time for both winemakers and connoisseurs alike.
For example, McKinley Springs, 357 Port Ave., Prosser, will celebrate its 15th anniversary with the theme "Crushing It for 15 Years" from 11 a.m. to 5 p.m. Saturday and Sunday with live music and food.
Prosser's Airfield Estates Wineries had sold out its annual Grape Stomp where visitors were invited to crush juice for the winery's 2017 Sangiovese Rose. But there is still time to sign up for the 5K Vineyard Run planned on Airfield property, near Sunnyside. The run is open to adults, children and well-behaved canines on leases.
Van Arnam Vineyards, is inviting wine lovers to come stomp grapes and make a "purple feet t-shirt. It's free to stomp, but there is a small fee for the shirt. There will also be food on site catered by the Squeeze Inn Food Truck.
Millbrandt Vineyards, Cabernet Court, Prosser is also participating in the "Catch the Crush" from 10 a.m. to 5 p.m.
Tapteil Vineyard Winery, near Benton City in the Red Mountain AVA, will have winemaker Larry Pearson available to talk wine and chat about the local wines and grapes.
In Zillah, Two Mountain Winery is offering visitors a chance to be a winemaker for a day.
Participants will spend time in the vineyard tasting grapes, learning what make a perfect wine grape and watch the action in the cellar to see what happens to the grapes next. The event will be from 1-3 p.m.
Also in Zillah is the Knight Hill Winery where a "crush and punch it down" event invites participants to get come get dirty, from 10 to 5 p.m.
Crush in the Yakima Valley occurs in late September and early October, and many wineries are offer fall cuisine, themed-festivals, concerts and specialty wine releases.
Many Yakima Valley venues also offer live music and unique events to help celebrate 'Crush'.
To make it easier to experience the valley Crush activities visit wineyakimavalley.org for a Premier Pass.