OLD-TIMER'S VIEW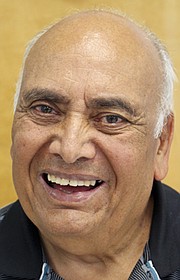 What would you do if you were paid $435,000 for one year at your job?
That's a fool question for maybe 10 percent of the population, but the rest of us would love to see that kind of pay over maybe 10 years of work.
That just happens to be the lowest salary a National Football League team can pay a regular player. For baseball, the minimum is $507,500. In the National Basketball Association, it's $543,471, and the National Hockey League minimum is $575,000.
Now, if you are one of those who feels sympathy for professional athletes and their causes, you may want to stop reading. I am not one of you.
I am not begrudging athletes what they earn. They worked their way to their stations in life. They take a beating for their money, and they are earning what the market will bear.
That is all fair.
But I'm going to show you in numbers why they need to shut up and play when it's game time.

While these low-rung players — and there aren't many — are getting these minimums, they also get a few other niceties. They travel to places you'd like to visit on the company dime. The company pays the bill when they are hurt, and attention is immediate.
According to sources on the internet, the average NFL player earns $1.9 million. In the NHL, the average is $2.4 million. The MLB average is $3.2 million, and the NBA average is $5.15 million.
While you were paying tens of thousands, maybe more than $100,000 to prepare for your profession, they didn't. They only had to play.
The NFL player probably takes the biggest beating, so it doesn't seem fair he's on the bottom rung among pro athletes. It's just that, physically, he can't play as many games as his counterparts. Football has 16 games, baseball has 162, and the other two leagues are about in the middle.
The professional sports life is not long, but the question is still, "What would you do if you were paid $435,000 for just one year at a job?"
For the sake of making this argument, I am going to say every player lasts at least two years; the average is higher. I am also going to assume he could live at least two years on the first $435,000.
Now he has a choice. He can join the world of protest and be a pseudo-leader, or he can become a real leader and put his money where his heart is.
This is the land of opportunity, and professional athletes every year are handed the greatest opportunity. Their big money gives them the opportunity to create the opportunity for others, the opportunity that can right social problems.
That's what real leaders do — create opportunities for others. Bill Gates is not the only person who became wealthy at Microsoft.
The NHL has 713 players generating $1,711,200,000 in salaries. For the NBA, the total is $2,312,350,000. In MLB, it is $2,400,000,000, and for the NFL it is $3,722,400,000.
That's more than $9 billion in one year. Combined, these guys would have more wealth and power than some countries.
Folks that's opportunity with a capital O.
If all the players sacrificed one year of salary to the same cause, they could form an instant $9 billion company that could come up with the strategies and the financing to help the people they want to help.
Don't tell me about the charities to which they donate. That's temporary help.
Businesses are needed. They create opportunity, and opportunity can help for a lifetime.
America doesn't promise you more than opportunity. These guys have all taken advantage of that. Now, they need to go help the downtrodden, the oppressed, the disadvantaged to do the same.
— Ted Escobar is the managing editor of The Daily Sun. Email him at tescobar@dailysunnews.com.