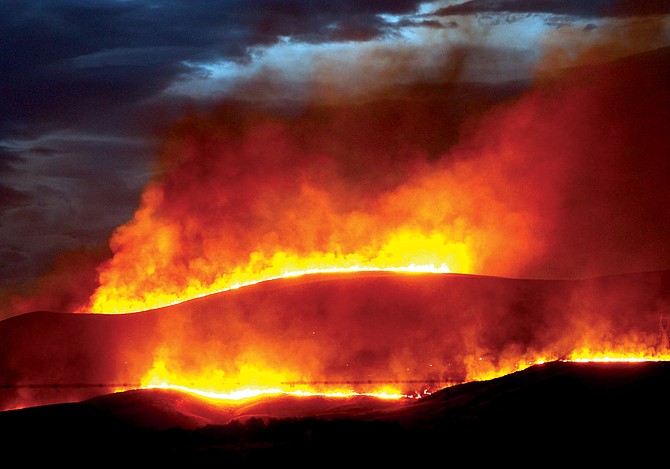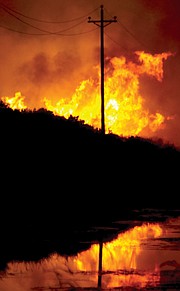 GRANGER — Yakama Tribal fire crews stood by overnight as a wildfire continued to burn on Toppenish Ridge.
The fire broke out about 4 p.m. on the ridge, south of state Highway 22 and west of Plank Road.
Whipped by gusty winds, the flames raced over the ridge, spreading quickly downhill toward an irrigation canal, threatening the main power transmission lines to White Swan, Toppenish and Harrah.
As the flames encroached on poles, firefighters moved into action, soaking dry grass around them.
"This is why we paint the bottom of the poles (with a fire resistant coating," Yakama Power General Manager Raymond Wiseman said. "We have crews coming in. We'll be doing repairs as needed."
Wiseman walked along the north side of the irrigation canal, keeping fire officials and his crews up-to-date on the spread of the fire.
The power poles weren't the only concern.
A communications tower used by both the Washington State Patrol and Burlington Northern Railway was surrounded by the flames. If power lines feeding the tower went down, so would some communications.
But with dark, the winds died down a little, slowing the fire's advance.
"We'll survive this," Wiseman said.
Fire officials were trying to determine the size blaze at press time. The cause remains under investigation.