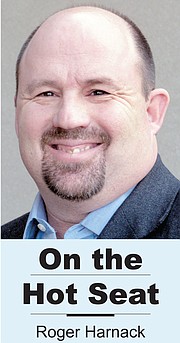 As a community newspaper publisher, nothing irks me more than people saying they get their news online or on television.
Like many, I wake up and turn on the morning news on television. But for me, its more entertainment than news.
It's ridiculous to see a so-called journalist drinking a glass of wine during crush week, telling viewers it's the best wine. Maybe she has visited every winery in the Yakima Valley and on the West Coast and can honestly make that claim.
Yeah, right.
Then there's the weathergirl who tells you its cold outside, and immediately proceeds with telling viewers to put on a coat if they go outdoors. And what about the constant Trump bashing that nobody cares about?
Are they giving you real news or really unnecessary and unwanted drama?
I think it's the latter.
I find the same thing on social media. Yes, I check into Facebook locations like far too many Americans do. But I find myself using Facebook and other social media sites less and less because of "wannabe" users who feel the need to inject themselves into issues and the lives of others they've never met.
With social media, comes the fake outrage from those empowered by the internet veil because they don't have to civilly discuss something in-person.
While I do tune in, I mostly tune out, except when it comes to real newspapers.
Earlier this month our industry celebrated National Newspaper Week. This year's theme was "Real Newspapers, Real News."
Given the state of the television and national media organizations, I think "Real Newspapers, Real News" applies to those of us working the small town beats.
When we publish a story on, say, the former Granger police chief facing criminal charges, we have actual sources. When we cover a fire, we've been there. And when we write about local sports, we do our darnedest to be on the sideline before putting finger to keyboard.
You can't say that about other media, especially the big companies where officials sit in ivory towers.
Yes, we make mistakes. But because our employee ranks are small, readers know just who to call — meaning we are held accountable by our readers and advertisers. It doesn't necessarily work like that for television and internet news organizations.
Given what I see on social media and TV, I much prefer to think of those claiming to be journalists as entertainers, or possibly divas wanting a spotlight to shine on them.
Where am I going with all this? Well, I guess I'm trying to set the record straight when people talk about media and newspapers.
Newspapers are not dying, at least not community newspapers. Sure we have fewer page counts — that's because of rapidly rising business costs, not just in our industry, but every industry we serve.
Your hometown newspaper isn't the national media, either. Whether you live here in Sunnyside, or elsewhere in Eastern Washington — like Colfax, Ephrata, Chewelah etc. — your hometown newspaper's staff shops in the same stores as you, dines in the same restaurants and calls on the same mechanics and plumbers.
When we put finger to keyboard, we've talked directly with sources. Rarely, do we allow anonymity in the pages of our community publications.
Granted, the news isn't always positive. But it's real. It's real in your neighborhood, your office and at your child's school.
As the theme says, "Real Newspapers, Real News."
Keep that in mind the next time you want information on crime, education, taxes, people and events.
Take time today and everyday to get informed by reading your local newspaper.
— Roger Harnack is the publisher and editor of The Daily Sun. Email him at rharnack@dailysunnews.com.