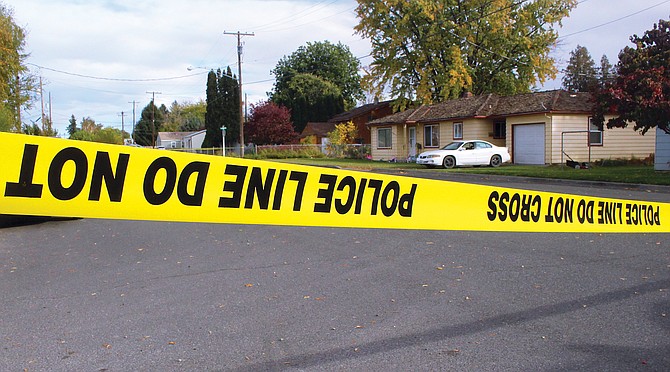 GRANDVIEW — The man who was hit in the leg during a drive-by shooting Friday and was arrested for drug crimes made his preliminary appearance yesterday in Yakima County Superior Court.
Elias Villanueva-Ramirez, 27, of Prosser, is charged with possession of a controlled substance and possession with intent to deliver, court records show.
Villanueva is being held in the Yakima County jail on $10,000 bond.
Police had their eye on Villanueva before the drive-by. His name came up four days earlier during the execution of a search warrant at 410 E. Second St.
A charging narrative by officer M. Fairchild noted three people who were detained with more than 71 pounds of drying marijuana identified Villanueva as their supplier.
On Friday, officers were called to 410 E. Second St. again regarding a drive-by shooting.
Officers found Villanueva with a bullet wound to his leg, records show. But police did not know he was the alleged supplier they were looking for.
According to Police Chief Kal Fuller, the shooting victim (Villanueva) told officers he was in the driveway when a silver sedan drove by and a rifle was pointed at him from the vehicle.
Several shots were fired before the vehicle drove away, Fuller said.
The shooting was the second targeted at the home in less than a week, Fuller said.
Police were previously called to the home Oct. 16 for a shooting, as well.
On Friday, Villanueva was treated for his injury at the scene while police combed the area for the suspect vehicle and evidence.
Fuller said several bullet holes were found on a vehicle in the driveway.
In his narrative, Fairchild said Villanueva at first indicated he did not live at the address and that the vehicle was not in his name.
Fairchild said a search warrant was issued to recover bullets and other items related to the shooting.
Officers found into additional drugs and had their warrant amended, court records show.
Fairchild said a large quantity of marijuana was recovered from the car driven by Villanueva.
More marijuana connected to Villanueva, was located in the garage, Fairchild said.
Police also found a functional digital scale and a drug ledger, Fairchild said.